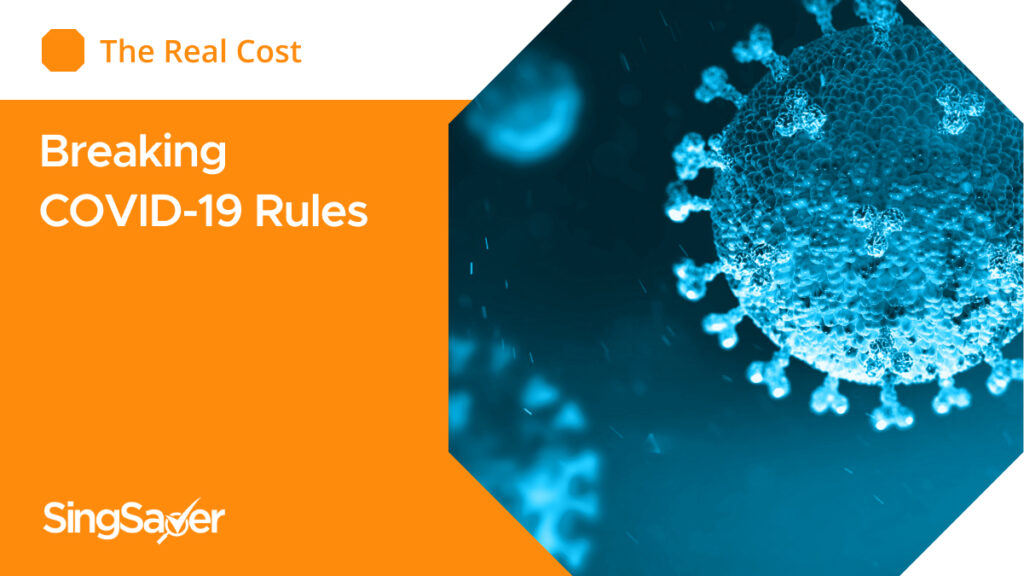 ---
There may be hidden costs on every dollar you spend. The Real Cost, a SingSaver Series, uncovers all the unexpected expenses you're incurring.
---
We usually calculate the cost of lifestyle products, daily essentials and even pet ownership, but this time, we decided to get real and get you the actual cost of breaking COVID-19 rules in Singapore.
You've heard the old adage, 'Singapore is a fine city'. So, you know that there's a cost to everything — even breaking COVID-19 rules.
But do not be mistaken; this isn't an article that preaches 'do what you want, just don't get caught', but more of a cautionary tale to encourage you and your loved ones to play by the book. The moral consequences far outweigh the benefits of flouting rules. Take fines and jail terms out of the picture, imagine if you've contracted the virus and unknowingly spread it to your ageing parents or children — that guilt would last a lifetime.
From not wearing a face mask to hosting large house parties and more, if you're as curious as I was, and wondered what it costs to flout COVID-19 rules, and if anyone has actually been caught red-handed, this one's for you.
For not wearing a face mask in public
It's been a long time since we've seen the bottom half of each others' faces when out and about — unfortunately (or fortunately for those who have social anxiety), it will be this way for a little while longer.
Here's what you need to know to prevent yourself from unnecessary masking trouble.
Blanket rule: Anyone above the age of two years old has to wear a face mask the moment they leave their residence. This is the most basic form of protection to lower the risk of contracting or spreading the virus.
Rule doesn't apply to/when:
Cost of breaking the rule: Those found guilty may face a fine of up to S$10,000, a jail term of up to six months, or both. Repeat offenders can be fined up to S$20,000 and jailed for up to a year.
Past offenders
Penalties
Paramjeet Kaur
Paramjeet pleaded guilty to one charge of public nuisance and for not wearing a mask during the Circuit Breaker in 2020.

She also failed to wear a mask on three other separate occasions.
Sentenced to a two-week jail, which took into account her two week remand in Institute of Mental Health Fined S$2,000
Phoon Chiu Yoke, 'Where is your badge' lady
She refused to wear a mask in public on numerous occasions, including the now infamous Marina Bay Sands incident.
Sentenced to a 16 weeks' jail
Benjamin Glynn
A self-proclaimed sovereign citizen, Benjamin is a British national who believed that the rules don't apply to him and refused to wear a mask on the train.

During his arrest, he even threatened to fight the officers.
Sentenced to six weeks' jail

Deported from Singapore and barred from re-entering
For not abiding by the 1m safe distancing rule when out
Think you need to get physically closer to the person queuing in front of you, because you are afraid that someone might cut your queue? Well, maybe knowing what doing so might cost you will ensure that you follow this simple rule.
Blanket rule: When out and about, you have to actively maintain a 1m safe distance between yourself and the general public. Essentially, create an invisible personal barrier between yourself and strangers to lower the risk of contracting or spreading the virus.
Rule doesn't apply to/when:
The four friends or family members that you are currently out with.
On public transportation (e.g. buses and trains). Although, you are strongly encouraged to put as much space between you and other commuters as possible.
Cost of breaking the rule: There are currently no offenders that have been formally charged for not abiding by this rule. However, if you find yourself being served a summon for such an offence, it would most likely be from a Safe Distancing Enforcement Officer. Penalties include:
| | |
| --- | --- |
| Offence count | Penalties |
| First offence | A fine of up to S$10,000, or a jail term of up to six months, or both |
| Subsequent offences | A fine up to S$20,000, jailed up to a year, or both |
FAQ: Safe Distancing Ambassadors and Safe Distancing Enforcement Officers — what's the difference?
They may have similar end-goals and spot red lanyards, but they are very different. Safe Distancing Ambassadors can only encourage businesses and individuals to abide by safe distancing regulations.
Safe Distancing Enforcement Officers, on the other hand, are government appointed officers (i.e. police officer, auxiliary police officer, public officer, an officer of a statutory body, etc.) who are empowered to carry out their duties. This includes entering, searching and inspecting your home without a warrant, if they have reason to believe that safe distancing regulations have been breached. Obstructing them from carrying out their duty might result in consequences mentioned above.
For gathering in groups of more than 5 in public spaces
It has been almost two years since COVID-19 disrupted our lives and you would think that people won't meet in groups larger than five in broad daylight, but some are brazen. This is what you should take note of the next time you're planning a gathering with friends or family.
Blanket rule: Regardless of activity (unless it is a formally registered event, wedding or religious service), you should only gather in groups of no more than five. This ensures that in the event someone in your party contracts the virus, contact is minimised and chances of cluster forming is low.
Rule doesn't apply to: Large families who have more than five family members living in the same household.
Cost of breaking the rule: First-time offenders will be fined S$300. Repeat offenders will face a S$1,000 fine or prosecution in court, depending on the severity of the case.
Past offenders
Penalties
Flouting rules in parks
77 people were caught flouting safe management measures at parks managed by the National Park Board, gathering in groups bigger than two persons.
Temporary closure of access to some parks as well as sections where crowding might occur

Fines and warnings were handed out
Late-night cycling gathering
Six youths were fined for flouting safe distancing measures while cycling.
Each were fined between S$600 and S$2,000
FAQ: How do I report safe distancing breaches?
See a large group of 10 causing a ruckus at your void deck, or someone not wearing a mask on the train? Report the incident on the OneService app.
Before you get too excited and put on your social vigilante hat, do note that you should only report incidents that you've personally witnessed as you will have to log into your SingPass in order to make the report and submit pictures as proof.
For having more than 5 visitors in your home
The rules surrounding house visits are slightly confusing, but as long as you don't welcome more than five unique visitors a day, you are safe. On that note, it is strongly encouraged that the unvaccinated or those who are not fully vaccinated (2 weeks since the second jab) only gather in groups of no more than two.
Blanket rule: You can invite no more than five unique visitors in your home a day. Household occupants do not add to the count. This means you can invite up to five friends or relatives to your house, your parents or siblings do not add to the count.
Rule doesn't apply to: Grandparents who are caregivers to their grandchildren.
Cost of breaking the rule: Those found guilty may face a fine of up to S$10,000, a jail term of up to six months, or both.
Past offenders
Penalties
Leong Chee Mun
He hosted a gathering in his Sengkang home with 11 other people.
The host and co-host were fined S$5,000 and S$4,000 respectively

Guests were fined between S$2,500 and S$3,000 each
Mediacorp stars
Mediacorp stars Shane Pow, Jeffrey Xu and Terence Cao were caught partying with 10 others in a viral photo.
Guests were fined S$300 each

Fines have yet to be meted out to the hosts
Joel Ang Yun Nan
He hosted a birthday party for 40 people and sold alcohol without a liquor license.
Sentenced to two weeks jail and fined S$15,500
The Banana Leaf Apolo
They hosted a birthday party for 40 guests at its Little India outlet.
The restaurant was fined S$10,000
For illegal reopening of businesses (yes, referring to KTVs and the likes of it)
In November 2020, the government announced that all nightlife establishments were to be shut until further notice, but they have the option to switch their business model and reopen as a restaurant. This was a move welcomed by most of the affected businesses, especially since they could receive a grant worth up to S$50,000 from Enterprise Singapore to defray pivoting costs.
However, there were a select few that did not pivot and went ahead to reopen as a nightlife establishment. This resulted in the suspension of all pivoted nightlife establishments.
Blanket rule: All nightlife establishments are to remain closed until further notice.
Rule doesn't apply to: Select nightlife establishments who had received a special license to reopen as a food and beverage (F&B) establishment (currently suspended).
Cost of breaking the rule: First-time offenders will face a fine of up to S$10,000, imprisonment of up to six months, or both. Repeat offenders may face a fine of up to S$20,000, imprisonment of up to a year or both.
Past offenders
Penalties
One 4 D'Road Bar
The bar allowed entry to freelance hostesses, screened music videos and failed to minimise interaction between hostesses and customers.
Bar was closed for 10 days, from 9 to 18 May 2021
KTV Cluster
The infection of a Vietnamese social hostess, who frequented KTV lounges or clubs that reopened as F&B outlets, caused one of the largest COVID-19 clusters in Singapore.
Pilot to reopen nightclubs and karaoke outlets was delayed

Each outlet was fined S$15,000
Conclusion
Don't even think about bending the rules, a couple hours of fun or letting the bottom half of your face see sunlight when out is not worth facing jail time or a fine.
Realistically, flouting safe distancing and any other COVID-19 rules would only prolong the pain because a seemingly harmless gathering could end up becoming the next big cluster. The virus is real, vaccinations save lives, and science doesn't lie. So don't go lax on your personal hygiene and keep your social circles small!
Given that we have to learn to live with the virus (after all, we're moving from being in a pandemic to an endemic), you're likely worried about contracting it. Consider getting a personal accident plan that not only covers COVID-19 but also provides daily hospitalisation payouts. Find one that's affordable and suits your lifestyle by clicking the button below.
Read these next:
Top 10 Face Masks in Singapore with Good Filtration Efficiency and How Much They Cost
Singapore-Germany VTL: Two-Way Quarantine-Free Travel Starts From 8 September
COVID-19 Tests In Singapore: Its Cost And Where To Go
Insurers Now Cover Allergic Reactions From COVID-19 Vaccination
If I Get COVID-19, What Will I Need To Pay?