"Does it make more sense to redeem a ticket outright, or buy a cash ticket and upgrade it with miles?"
That's a very common question I get, and it's a good one. Most people know how to redeem awards, but upgrades are a bit more complicated (and I'm not talking about the free upgrades you may get -- think once in a very blue moon -- during check-in) . What kinds of tickets can be upgraded? What cabins can you upgrade to? How much does it cost? Most important of all: is it worth upgrading a normal fare SQ ticket with KrisFlyer miles?
TL;DR version
The quick answer is that all things being equal, it generally doesn't make sense to buy a normal fare ticket and upgrade it with miles, unless someone else (for example, an employer) is paying for the revenue ticket. That's because in most cases, with a smaller incremental number of miles, you could do an outright redemption and not have to buy a normal fare ticket in the first place.
(More on this in point 5 below)
Six things to know about upgrading your SQ ticket with KrisFlyer miles
1. Is your ticket eligible to be upgraded?
In January 2018, Singapore Airlines introduced three new fare types – Lite, Standard and Flexi. These fare classes differ when it comes to baggage allowances, cancellation and change fees, and upgradability. In the table below, I've highlighted the rules governing upgrading with miles.
| | | | |
| --- | --- | --- | --- |
| | Lite | Standard | Flexi |
| Fare Buckets | | | |
| Economy | Q, N, V, K | M, H, W | Y, B, E |
| Premium Economy | R | P | S, T |
| Business | D | U | Z, C, J |
| Upgradable? | No | Yes | Yes |
How do you know your fare bucket? During the booking process, click on the "View Details" button that appears on the top right corner after selecting your flights.

If your ticket has already been booked, you can find the fare bucket listed under "Booking Class" on the e-ticket.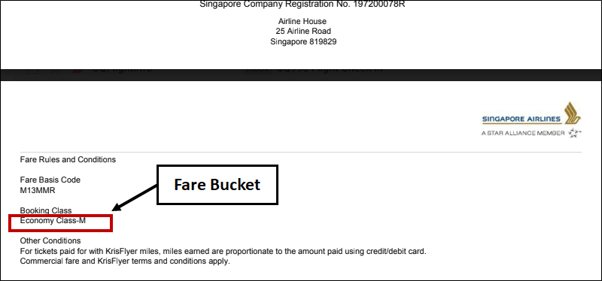 Two additional points to note about upgrade eligibility:
It has nothing to do with where you buy your ticket from, for example, Singapore Airlines website vs online travel aggregators like Expedia. All that matters is the fare bucket
Codeshare flights cannot be upgraded
2. What cabin can your ticket be upgraded to?
Singapore Airlines allows the following cabin upgrades.

Do note that "double cabin" upgrades are only possible from Economy to Business; they cannot be done from Premium Economy to First.
Pro tip: Not all business class cabins are created equal so make sure to read this!
3. How do I know if there is upgrade space available?
Singapore Airlines upgrade space comes out of the same inventory as outright awards, which means you can check for upgrade space by doing a dummy booking for full awards.
In the screenshot below, we see that there is one Business Saver seat available between SIN and NRT on SQ12. This means that SQ12 must also have one seat available for Business Saver upgrades.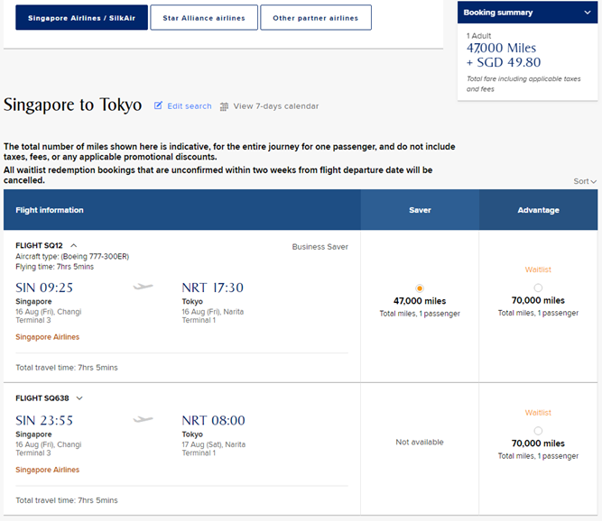 Since you need to buy a more expensive Standard or Flexi ticket if you want to upgrade it with miles, it makes sense to do a quick search for that particular date and see if upgrade space is available first.
Upgrades can be waitlisted as well, but you'll need to call up KrisFlyer membership services as waitlisting can't be done through the website. Upgrades follow the same rules as full awards when it comes to changes or cancellations: it costs US$75 to cancel a Saver ticket (US$50 for Advantage), and US$25 to change the date of an upgraded flight (free for Avantage).
If you're changing the date of an upgraded flight, note that you'll have to pay whatever change fees apply on the revenue ticket as well.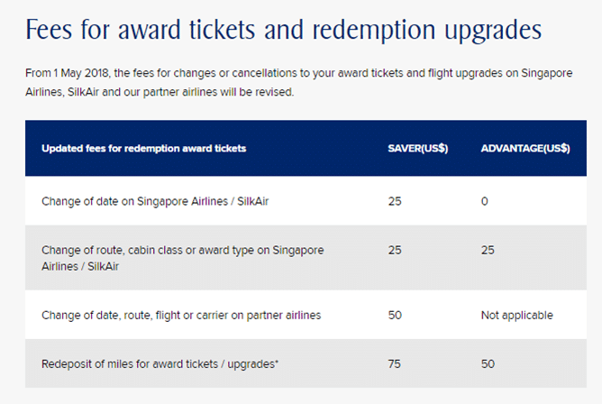 4. How much will your upgrade cost?
The cost of upgrades is listed on the KrisFlyer upgrade chart. There are seven upgrade charts to cover the seven different upgrade scenarios:
Economy Standard to Premium Economy
Economy Flexi to Premium Economy
Economy Standard to Business
Economy Flexi to Business
Premium Economy Standard to Business
Premium Economy Flexi to Business
Business Standard/Flexi to First (Business Standard & Flexi rates are combined into one chart because there is no difference in the miles required to upgrade them)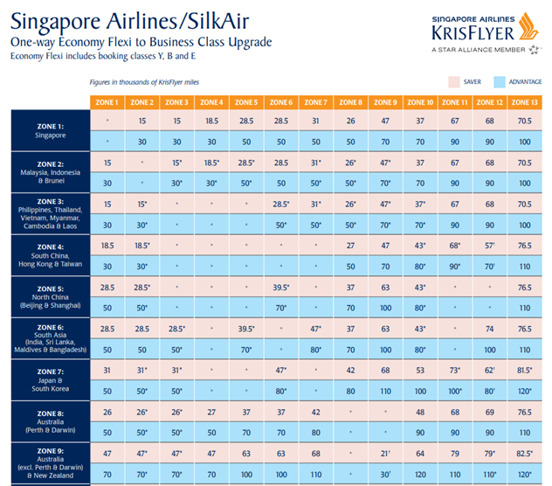 Just like full awards, upgrades also have Saver and Advantage pricing -- Saver awards are cheaper, but Advantage awards have more seats available.
5. Are upgrades a good use of miles?
Generally speaking, no. Consider the following:
It costs 15K miles to upgrade a SIN-HKG Economy Standard ticket to Premium Economy Saver. However, I earn 1.2K miles on the Economy Standard ticket, making my net cost 13.8K miles.
It costs 24.5K miles to redeem a SIN-HKG Premium Economy Saver outright.
Therefore, it takes 56% (13.8/24.5) of the miles required for an outright redemption to upgrade a revenue ticket.
All things equal, the greater the %, the less worth it it is to upgrade, because for a smaller incremental number of miles, you could do an outright redemption and not have to buy a revenue ticket in the first place.
I worked out the ranges based on a sample of destinations from each of KrisFlyer's award zones, and here's the summary: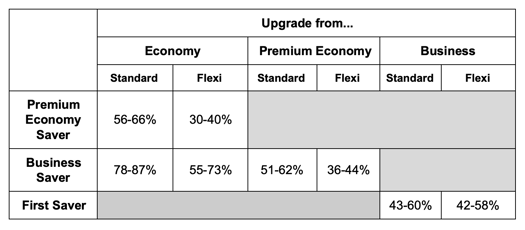 You can see that upgrades aren't cheap! If you buy an Economy Standard ticket, for example, you'd end up paying ~80% of the miles needed for an outright Business Class redemption! Wouldn't you much rather spend a few more miles and avoid having to buy a ticket altogether?
Therefore, my overall take is that it generally doesn't make sense to buy a revenue ticket and upgrade it with miles, unless someone else (for example, an employer) is paying for the revenue ticket.
6. What do I get as an upgraded passenger?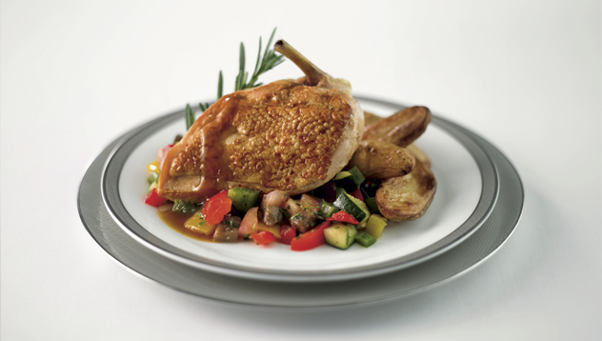 As an upgraded passenger, you get the full entitlements of the upgraded cabin. There is no discrimination among those who upgraded with miles and those who bought revenue tickets. For example, as a Business Class passenger, you'll get access to Book the Cook pre-order meals, lounges, priority baggage and priority boarding.
Conclusion
Although it generally doesn't make sense to buy a ticket and upgrade it with miles, if you're traveling for work you can simply see it as a "discount" on the number of miles you'd otherwise need for an outright redemption.

Remember that it's also possible to bid for cash upgrades on selected Singapore Airlines flights, so be sure to check your email to see if you're eligible. This can sometimes be much better value than spending your hard earned miles!
Read these next:
Why You Should Avoid Redeeming KrisFlyer Miles for Economy Class ticket
How (and How Not) to Get an Airline Upgrade
Flying Business Class? Beware, Not All Business Class Is Created Equal