Got miles? With effect from 24 January 2019, KrisFlyer miles redemption rates for

certain Singapore Airlines and SilkAir awards will be raised by up to 12%.
Opinions expressed reflect the view of the writer. This is his story.
If you're a KrisFlyer member, you might have received a mailer this week informing you about some adjustments to the KrisFlyer air miles program. The most attention-grabbing change is the imminent increase in the cost of award redemptions. In the frequent flyer world, we call this a "devaluation" (airlines call it an "enhancement" - no, really, read the email!).
Devaluations hurt, but they're part and parcel of the miles game. Here are some answers to questions you might be asking about the changes:
When is this happening?
On 24 January 2019, KrisFlyer will be raising the cost of redemption for certain Singapore Airlines and SilkAir awards. The cost of upgrading revenue tickets with miles will also increase slightly.
How much are prices increasing?
It depends on which cabin and what type of award (Advantage vs Saver) you're looking at. The table below summarises the % increases in miles required.

The detailed table below shows exactly how much each award has increased for Saver and Advantage awards out of Singapore. You can find the chart for redemptions before 24 January, and the chart for redemptions on/after 24 January.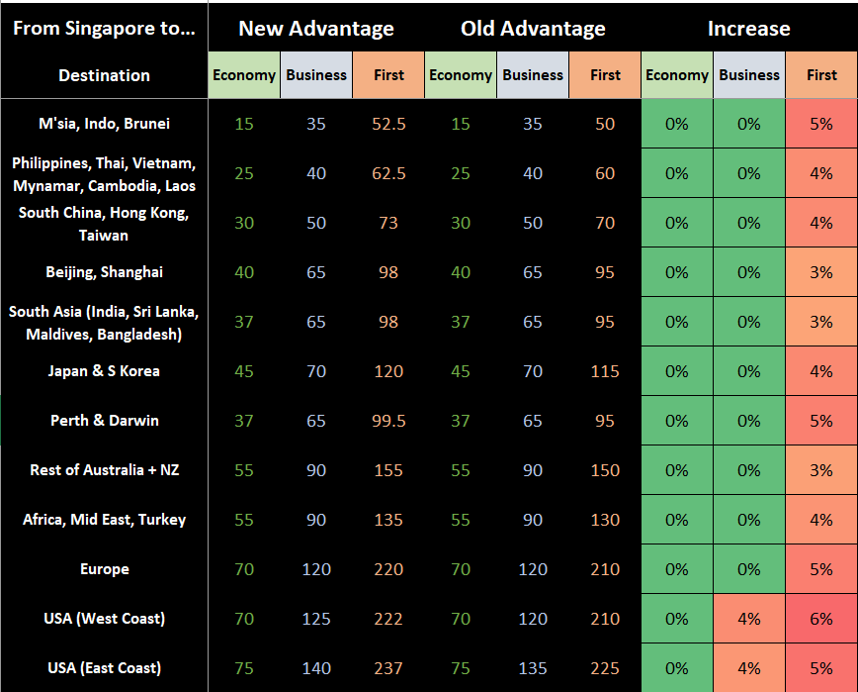 The number of miles required for upgrades is increasing as well, albeit modestly. Here's the cost for upgrades made before 24 January, and from 24 January onwards. There are seven different upgrade charts and it'd take too long to examine them individually, but just know that the increases are in the range of 1-5%.
How can I avoid the price increases?
If you redeem an award before 24 January 2019, you'll pay the existing award prices. Any redemptions made on or after 24 January 2019 will be priced according to the new chart.
Do note that if you're currently waitlisted and your waitlist clears on or after 24 January 2019, it will be priced according to the new chart. This is regardless of when you actually added your name to the waitlist.
If you redeem an award before 24 January 2019 and subsequently need to change the date you fly, there will be no additional miles required. A date change fee of US$25 per ticket will apply for Saver awards (Advantage awards have no date change fee). Changing your route or the name on the ticket requires a reissuance of your ticket, which will in turn require additional miles based on the new prices.
Therefore, if you have a sense of your travel plans for the upcoming year, you may want to pre-emptively lock in your award at the existing rates. Singapore Airlines allows you to book award flights 355 days in advance.
Should I transfer my credit card points to KrisFlyer now?
That's not bad thinking, assuming you have a destination in mind already.
Do remember that banks require a certain number of days to transfer points to KrisFlyer, so don't leave it to the last minute.
Based on my personal experience, AMEX, Citibank, DBS, OCBC, and UOB will process points transfers within 2-4 working days, whereas banks like HSBC and Maybank may require up to 7 working days. Bank of China transactions can take up to three weeks, and are unlikely to arrive in time for 24 January.
You can read more community-sourced datapoints on points transfer times.
Must I absolutely, positively, redeem something now?
If you have unused KrisFlyer miles, it's preferable that you pull the trigger on any trip you're thinking of taking and book your flights now. By doing nothing, your miles will automatically decline in value by up to 12% come 24 January 2019.
However, if your points are on the bank's side, then it may make sense to keep your powder dry for now. Remember that most banks in Singapore allow you to transfer your points to either KrisFlyer or Asia Miles. If you're a Citibank cardholder, you have a choice of 12 different frequent flyer programs! Each of these has its own sweet spots (another topic for another time), and you shouldn't feel like you need to rush to convert everything to KrisFlyer miles now.
It gets a bit trickier if you were in the process of saving up for a big award. If you were very close to hitting your goal, my advice would be to bite the bullet and accept that the goalposts have shifted. A 12% depreciation isn't insignificant, but it's not insurmountable.
If you weren't anywhere close, it may be a good idea to try redeeming whatever you have for a lower cost award.
All this is moot if you're the sort who only redeems economy class, but if so, you're missing out on one of the great joys of the miles game!
Is there any good news?
Some.
Singapore Airlines is now allowing economy class passengers to use their miles to upgrade to business class, even if the aircraft they're flying on has premium economy. The previous policy said that economy class passengers could only upgrade directly to business class when premium economy was not offered on the aircraft they were flying on.
Also, the airline will now be clearing waitlists at least 14 days in advance of your flight. At the T-14 mark to departure, you'll know for sure whether your waitlist has cleared or was rejected – so no more waitlist limbo!
How bad is this devaluation compared to historical ones?
Honestly, in terms of magnitude, it's not too bad. In the past 10 years, there have been two other Singapore Airlines chart devaluations.
November 2007 – significant devaluation, but I don't have the figures on hand

March 2012 – awards increased by up to 45%

March 2017 – awards increased by up to 32%
With this devaluation, the most that any award increases by is 12%, and one could argue that it's relatively mild. Perhaps more interesting is that the rate of devaluations may be increasing – while the interval between devaluations was previously 5 years, it's now slightly under 2. We might be seeing the start of more frequent, smaller magnitude devaluations.
Are miles still better than cashback?
Yes, Budget Babe, they still are.
What to read next:
Travel Hacking Blog Teaches Anyone How to Experience Business, First Class Flights
'Why I Prefer Miles Over Cashback Cards Any Day, Every Day'
6 Credit Cards Which Give Free Access to Airport Lounges
Cashback or Rewards Credit Card: Which is Better?
Amex, Mastercard or Visa: Which is Better for Travel?
---

By Aaron Wong
Aaron started The MileLion to help people travel better for less and impress "chiobu". He was 50% successful. This is his story.
---