Opinions expressed reflect the view of the writer (this is his story).
It's a tired, but predictable trope in the mainstream media. Every now and then, the travel desk puts up a "5 ways to fly First Class without paying" or "You won't believe these 7 ways of getting upgraded for free" or some other combination of listicle and clickbait title.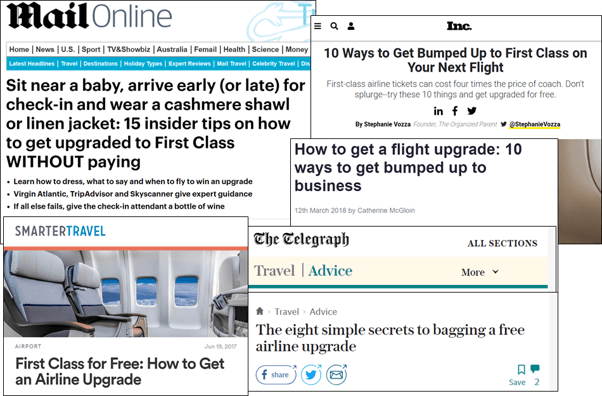 These articles have three things in common.
First, they're poorly researched, citing "insider tips" from "industry experts" but are in reality just carbon copies of each other.
Second, some of the ideas they propose are more likely to get you in trouble than upgraded (one article even suggests you "get mad" at the counter staff. I'm not kidding).
Third, they're all completely wrong.
Upgrades are science, not art
Here's the cold hard facts: upgrade decisions these days are made almost exclusively by computer algorithms, with little to no discretion extended to check-in or gate agents. Modern software and years of experience have helped airlines perfect revenue management techniques and forecasting. They know with almost unerring accuracy how many seats will be filled on a given flight, how to goose demand to fill up empty seats and how to consolidate flight schedules to maximize loads.
Upgrade decisions these days are made almost exclusively by computer algorithms, with little to no discretion extended to check-in or gate agents
Moreover, if a premium cabin still has empty seats close to departure, airlines are more likely to try and monetize them through bid-to-upgrade programs or release them to frequent flyer members than just give them away for free.
This means that free upgrades, when they do happen, are reserved for situations where a flight is genuinely oversold. These are called "operational upgrades", and even then are given out based on a well-documented formula that considers elite status, ticket value, connections and a whole host of other factors. I can assure you that how you dress and how much you smile are not factored into the equation.
With that in mind, let's look at what does and does not work when trying to get an upgrade.
Getting an airline upgrade: What doesn't work
1. 'Dress nicely'
Theory: Airlines are more likely to put you in the First or Business class cabin if you look the part. So show up at the airport wearing a suit!
Fact: This enduring myth seems to have come from the days when air travel was something people dressed up for. But if you ever steal a glance at a fully-loaded Business Class cabin, you're going to realise that the demographics these days are extremely diverse. Yes, you may have a few business-looking types in full suit-and-tie regalia, but you'll also see Silicon Valley CEOs in sweatshirts and jeans, casually-dressed honeymooning couples, and vacationing frequent flyers with family in tow. There is no "Business Class look", and assuming you're not just wearing a loincloth, clothing simply isn't a proxy for where you "belong".
2. 'Let them know it's your birthday/honeymoon'
Theory: Tell the check-in staff it's your birthday or honeymoon to get a free upgrade!
Fact: As mentioned, upgrades are a highly algorithmic process and your birthday and/or recently married status doesn't feature anywhere in the equation. If you're lucky, the check-in associate will congratulate you.
3. 'Sit next to a baby'
Theory: If you're seated next to a screaming baby, the cabin crew will take pity on you and move you into the First or Business Class cabin.
Fact: If you're next to a baby in a full cabin, you're just going to have to suck it up and ask for earplugs. The crew may move you to another seat within the same cabin if one is available, but you can bet they're not going to let you through the curtain on account of your eardrums.
4. 'Check your seat for breakage'
Theory: Look for a defect in your seat, however small. Then report it to the crew and ask for an upgrade as compensation
Fact: If your seat has a broken reading light or a defective IFE screen, the first option your flight crew will take is to move you to another seat in the same cabin (which may mean trading your aisle seat for a middle one). It's simply unrealistic to expect them to move you up a cabin because of a seat defect -- you may however get an inflight shopping voucher as compensation for your troubles.
5. 'Be nice and ask'
Theory: It doesn't hurt to smile and ask for an upgrade -- you never know what may happen!
Fact: I can tell you what will happen. You'll either be told "no", or offered a paid upgrade (see below). Counter staff simply don't have that level of discretion to upgrade "nice" people. Be nice because it's the right thing to do, not because you want an upgrade.
Getting an airline upgrade: What works
1. Fly with airlines that offer bid-to-upgrade systems
To reduce the opportunity cost of empty premium seats, many airlines (Singapore Airlines, Lufthansa, Etihad, Air New Zealand, and Qantas to name a few) have signed up with "bid-to-upgrade" providers like Plusgrade or Optiontown.
The actual bidding process varies, but in general you'll receive an email inviting you to bid for an upgrade. You submit a bid and your credit card details, and between 24-72 hours of your departure you'll receive an email letting you know if your bid was successful. If your bid is not successful, your card is not charged.
The screenshot above shows an illustration for Etihad. Note that all airlines will have a "minimum bid" amount to prevent lowball offers. You'll of course want to do a quick check to see how much Business/First class tickets are going for before you place your bid. There's no sense in your base fare + upgrade costing more than buying a Business Class ticket outright
2. Use your miles for upgrades
You can use your frequent flyer miles to upgrade your ticket, but do check if the fare class you bought is eligible for upgrading with miles.
For example, Singapore Airlines allows you to upgrade selected economy tickets to either premium economy or business class.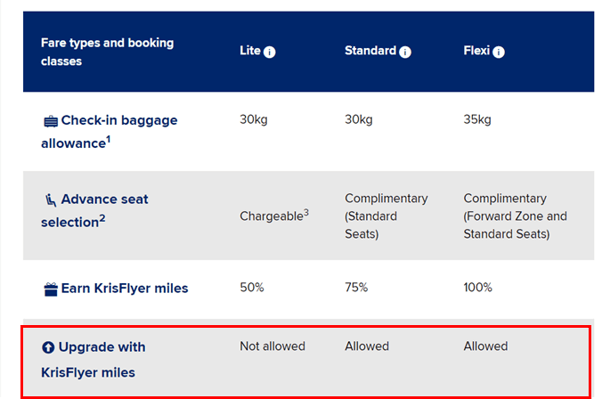 If you're a KrisFlyer member, you can even use your miles to redeem upgrades on other Star Alliance carriers. Have a look at this table to see if your ticket is eligible, and this table for the cost.
3. Buy a discounted upgrade at the counter
Airlines which do not offer online bid-to-upgrade programs may still offer paid upgrades at the counter.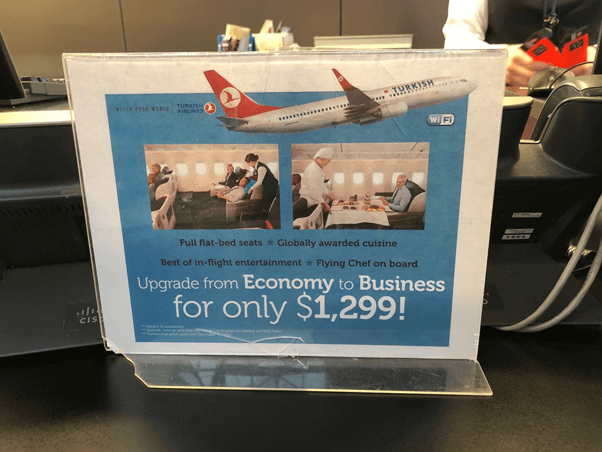 Thai Airways, for example, offers standby airport upgrades when available with a fixed upgrade price. Qatar Airways has a dedicated "Upgrade on Departure" counter at Doha airport and at its counters at other airports. Malaysia Airlines offers a "Last Minute Upgrade" feature that allows you to buy an upgrade at the airport. Ditto Air India, Austrian Airlines, Alitalia, SAS, and a host of other carriers.
This fee you pay will, of course, depend on the length of the flight and what cabin you're upgrading to.
Conclusion
Just like everything else in life, there's no free lunch when it comes to airline upgrades. It's true that you may simply luck out and get an operational upgrade from time to time. But if you do, it's just your good fortune, and not because of how you dressed or what you did.
If you want a reliable way of getting upgraded, start building your frequent flyer miles and be on the lookout for paid upgrades at the airport. It's not free, but it's a lot cheaper than paying full price.
What to read next:
'Why I Prefer Miles Over Cashback Cards, All Day, Every Day'
Travel Hacking Singapore Blog Teaches Anyone How to Fly on Business Class
Epic Trip Inspires Singapore Blogger to Share Travel Hacking Secrets
How to Redeem Miles for Friends and Family
---

By Aaron Wong
Aaron started The Milelion to help people travel better for less and impress "chiobu". He was 50% successful. This is his story.
---