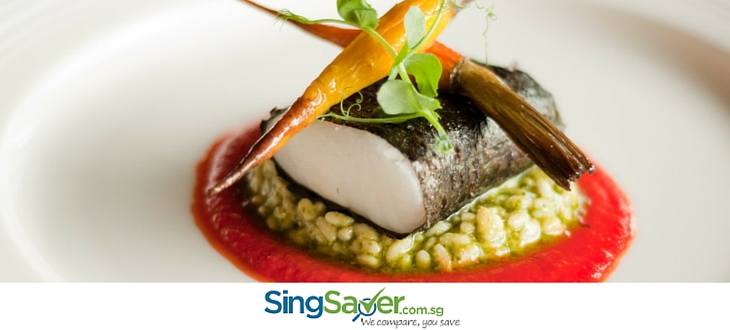 We've rounded up restaurants that provide the best value for money during Singapore Restaurant Week 2016.
On an average day, the way to save on restaurant meals is through vouchers, promotions, or dining credit cards. But with the 12th edition of Singapore Restaurant Week 2016 just a few days away, Singaporeans can savour fine dining dishes without hurting their wallets.
On 19 to 26 March 2016, foodies and non-foodies can eat at Singapore's finest restaurants for a fraction usual price: $28++ to S$40++ per person for set lunch, and S$38++ to S$58++ per person for set dinner.
The theme for this year's Singapore Restaurant Week is 'Feasts of the Ocean,' so expect skillfully plated seafood treasures across the participating restaurants.
Tickets are likely to be snapped up quickly so let's get straight to it: here are our top five participating restaurants you should dine at and the delicious meals you should feast on.
Adrift by Celebrity Chef David Myers
America's Food & Wine Magazine named him Best New Chef in 2003. Since then he's opened and closed Sona in Los Angeles, and seen his many Comme Ça variations come and go. At his latest outpost at Marina Bay Sands, Myers serves small but bold plates with smart touches of Asian ingredients.
Lunch or dinner?
Go for the dinner menu. For $58++ per person, you get green garlic soup with yakitori chicken and juniper berries and the a California-style seafood stew with miso-uni (sea urchin) aioli for the main.
Aura Restaurant and Sky Lounge
Located on the fifth floor of the grand National Gallery Singapore, Aura Restaurant and Sky Lounge is the latest opening by restaurateur Beppe de Vito (Il Lido, Osteria Art, &Sons and Southbridge). As with most of de Vito's establishments, expect traditionally Italian ingredients presented with finesse.
Lunch or dinner?
The four-course dinner. With a menu that includes lobster and crab salad with salmon pearls; casaretti pasta with black cod and asparagus; and Adriatic seabass with artichokes and saffron sauce, you're getting your money's worth at $58++ per person.
Buyan Russian Restaurant and Caviar Bar
The name of this Duxton Hill restaurant paints an accurate picture: this is where you get hearty and extravagant Russian dishes.
For Restaurant Week 2016, the blinis make an appearance on the lunch menu. If you're hankering for a generous dollop of the caviar however, wait until after this week to use the Palate Card dining privileges from your American Express Platinum credit card — you can enjoy up to 50 per cent off your meal.
Lunch or dinner?
The three-course lunch which serves the solyanka (thick spicy and sour soup with meat), cossack lamb (oven-baked lamb chunks with mashed potatoes and cheese), and the very popular honey cake.
Gattopardo Ristorante di Mare
From the moment Sicilian chef Sauro Lino served us his polipo (charred octopus, Sicilian olives, sun-dried tomatoes and baby potatoes, we were fans. It wasn't just the exceptional skill he displayed in preparing this tough meat, but also his beliefs in the importance of serving sustainable seafood.
Lunch or dinner?
The four-course dinner (S$58++ per person), for the egg tagliolini pasta with Japanese sea urchin sauce, and the responsibly-farmed grilled Kuhlbarra barramundi fillet in potatoes brunoise and pistachio sauce.
Ristorante Takada
We've had one of our best meals in Singapore at this small restaurant – 25 seats only. Chef Masahiro Takada, formerly head chef at Ristorante Pisterna in Acqui Terme in Italy, creates thoroughly balanced Italian-leaning dishes embedded with details fashioned from Japanese ingredients. A meal here is a modern dance, proper yet arresting, traditional yet fresh.
Lunch or dinner?
The four-course set lunch is merely $8++ less than the usual set lunch ($48++ per person), so go for the omakase Singapore Restaurant Week dinner ($58++ per person; usually $88++ per person).
Good luck picking between the 60-degree Iberico pork with balsamico sauce and the sautéed codfish infused with yuzu with oyster under herb and bread crumble for your main course.
Read This Next
10 Most Overrated and Expensive Dishes in Singapore
4 Reasons Buffets in Singapore are a Huge Waste of Money
---
By Celine Asril
Celine Asril is a former Food & Drink Editor who writes about sustainable living, including sharing sound financial tips.
---