Food can be one of your top travel expenses. Use these tips to stay within budget.
One of most enjoyable aspects of travelling is the opportunity to indulge in another country's cuisine. However, food can be one of your top expenses, and if you're not careful, you could find yourself going over budget.
If you consciously reduce what you spend on food while overseas, you can have more money leftover for attractions, souvenirs, or currency for your next trip. But fret not, saving money on food doesn't mean having to deprive yourself.
Here are 4 ways to reduce your food expenses on your holiday while still getting a full-flavoured experience.

1. Skip the Hotel Breakfast
When booking your accommodations, resist the temptation to pay extra for the rooms that come with breakfast included.
More often than not, the fare you'll be provided won't be worth the additional money added to your hotel bill. Who wants to take a 7 hour flight, only to be chew on supermarket bread rolls, dry ham and discount butter? You'll likely find more palatable fare outside.
Also, hotel kitchens can hardly be bothered to maintain a full buffet past 9 am. If you want to sleep in, you'll have to contend with slim pickings when you wake up.
Don't forget there are taxes added to every item in your accommodation bookings, so S$20 extra per pax for breakfast won't just be S$20 by the time you reach the checkout page.
But, like every rule, there are exceptions. If you happen to be staying at a bed-and-breakfast, or a family-style inn (such as a ryokan in Japan), your accommodations are likely to come bundled with breakfast by default.
If so, do yourself a favour and make time in the morning for a proper breakfast. You'll get to enjoy genuine home-cooked food, doubly pleasurable if you're new to the country's cuisine.

2. Stay Hydrated With a Water Bottle
One of the most often-repeated advice is not to drink (or even brush your teeth with) the tap water when you're in a foreign country. Even in countries with potable tap water, you may encounter foreign germs which your body can't handle, which can result in an upset stomach.
It's safer to rely on bottled water, which most hotels provide for free. If you must, only buy bottled water from convenience stores or supermarkets, and not from streetside vendors. In Thailand, my dad once witnessed a vendor filling up empty mineral water bottles from a tap, then attempting to sell them to unsuspecting tourists!
However, buying bottled water and other drinks can quickly add up, both in cost and environmental impact. Most hotel rooms come with an electric kettle, so consider bringing a reusable water bottle and refilling it with boiled water each night.
Bringing your own water to stay hydrated will also help you avoid ordering pricey drinks when you eat at a restaurant, or stopping by at too many cafes. This will further save you money.

3. Eat With the Locals
One of the most enjoyable ways to get to know an unfamiliar culture is through their food, but you may need to go a little out of your way to get a genuine taste. Sure, tourist hotspots have their own attractiveness, but you shouldn't treat them as the final word when it comes to local cuisine.
Instead, follow the locals to find the best food. If a stall or restaurant regularly attracts a queue made up of mostly locals, it's safe to assume the food there will be awesome. (Indeed, the best wantons I've had in Taipei were found at a homey shop in an unassuming alley).
And because these places are likely to be away from the tourist traps, prices will be lower, and you'll save quite a bit.
Another way you can save money and still have a local experience is by cooking your own meals using ingredients from the grocery store. Look up some recipes online, or better yet, invite a few local friends over and have a cook out (easy to do if you book an Airbnb).

4. Go Slow at Night Markets
Night markets and street food fairs are foodie havens, and can easily rank among the highlights of an enjoyable trip. However, if you're not careful, you can end up spending way more than you mean to.
The sight, sounds and smells of a night market are designed to stimulate your appetite, and encourage you to snack as you navigate the stalls. This makes it easy to order more food than you mean to.
Plus, most items are cheaply priced, which means 1) your buying decision will be based entirely on your appetite, 2) you're apt to lose track of how much you've paid and 3) even higher priced items seems cheap in comparison (because you're buying from a streetside vendor, and not ordering at a cosy restaurant).
Case in point: In Ximending, Taipei, you can find streetside hawkers selling pan-fried wild boar with onions and your choice of seasoning. (I recommend the lemon pepper). Prepared on the spot to order, it's difficult to pass up, as you'd imagine.
The last time I had it in May this year, the price was NT$150 per serving, roughly equivalent to S$7. Not exactly a price you'd associate with Taiwanese street food, but there you have it.
Use Your Credit Cards Wisely
One common practice is to bring along a credit card as a financial backup, to be used to pay for any unexpected expenses.
However, overly restricting your credit card use while overseas also means missing out on valuable opportunities to earn bonus perks.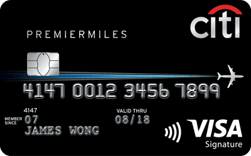 For example, if you have the Citi PremierMiles Visa Card, you can earn 2 miles per dollar spent overseas. This makes it the ideal card to pay for your meal at, say, the Michelin-starred Ishikawa in Tokyo. Not only will you get to enjoy top-class cuisine, you can also earn miles to offset the cost of your next trip.
Combined with the tips above, wise use of your credit cards can further enhance your enjoyment of a city's culinary character without burning a hole in your pocket.
Read This Next:
Visa, MasterCard, or American Express: Which is Best for Overseas Use?
Should You Get An Annual Travel Insurance Plan?
---

By Alevin Chan
A Certified Financial Planner with a curiosity about what makes people tick, Alevin's mission is to help readers understand the psychology of money. He's also on an ongoing quest to optimize happiness and enjoyment in his life.
---