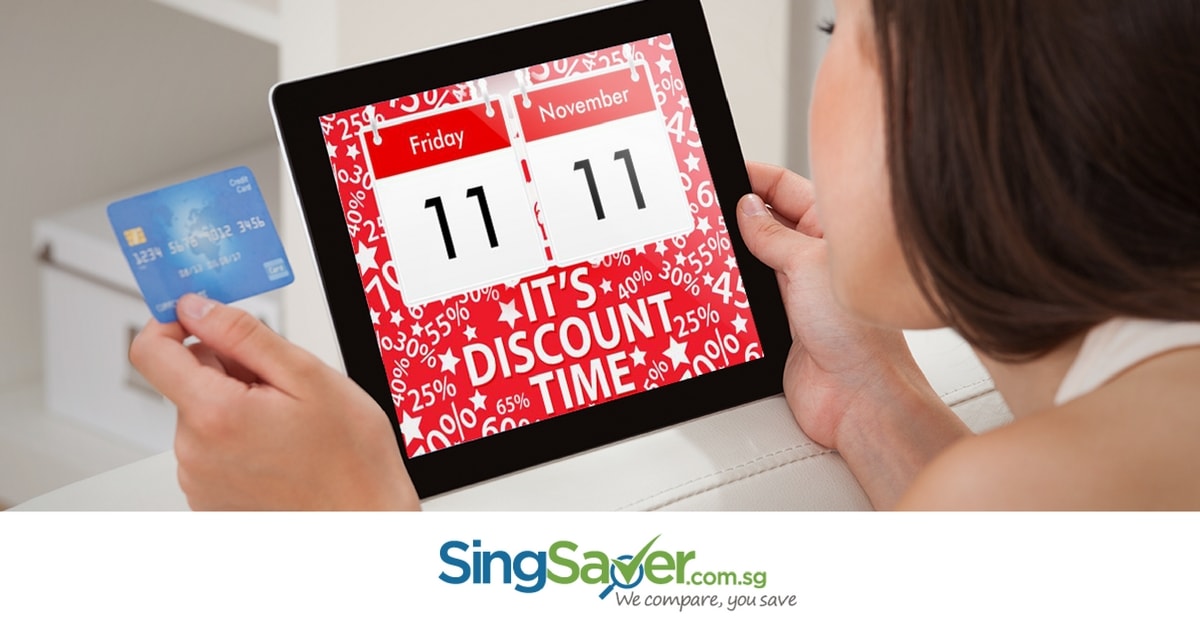 Besides Taobao, Tmall, and Aliexpress, here are other crazy Singles' Day sales in Singapore on 11 November 2016.
Last updated on 11 November 2016. Many new deals added; scroll down!
Trust us, Singles' Day is going to be crazy. The Chinese shopping holiday created by Alibaba is spreading like wildfire in Singapore, with local e-commerce stores slashing prices on 11 November. 
Because we want to help you get the best deals, we've listed down all the Single's Day sales in Singapore outside of Taobao, Tmall, or Aliexpress. We'll be updating this list daily until 11 November. Follow SingSaver.com.sg on Facebook or subscribe to our newsletter and be the first to know!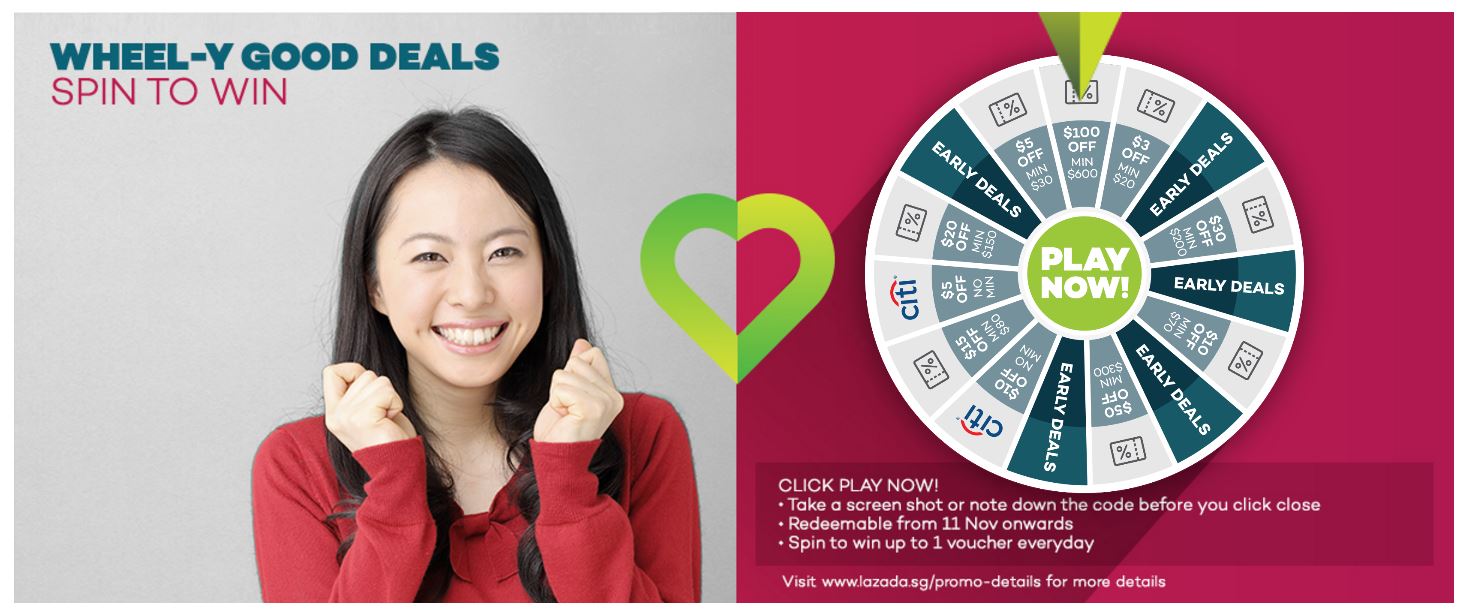 1. Lazada Online Revolution 2016
As a countdown towards Singles' Day, Lazada launched mini games like the Wheel of Deals, a spin-the-wheel game that awards discount vouchers. You can use them from 11 November onwards.
Wheel of Deals will allow you to win only one voucher per day, but you get unlimited spins each day. You'll probably land on "Early Deals" placeholders a bunch of times, which will then scroll your screen down to show you discounts on some random items.
But don't get distracted, though – just keep spinning until you eventually get a voucher. Don't forget to screenshot your discount code once you get one!
There's also a Midnight Voucher, a puzzle that will spell out one letter a day over 10 days, which when put together, will form an exclusive discount code. If you manage to collect all the letters/digits, You'll get S$15 savings on 11 November. (With "V" being the letter for Day 3, we're betting the code will be 'November11'.)
Helping to whip you up into a buying frenzy are 11 Special Deals, which feature 11 discounted items daily, drawn from a different category each day. So far, the three categories for November 1, 2 and 3 are Home, Computers and Laptops, and Mobiles and Laptops, respectively, and we spotted branded desirables such as an iPad Pro and an HTC One Plus.
Lazada's daily special deals are available for each 24-hour period only, so they'll be gone forever once you miss them. But c'mon, we all know the real discounts are happening in a week's time on 11 November. Nonetheless, Lazada's mini games are a fun way to get consumers warmed up for the real deal (no pun intended).
How to Make the Most of It
Collect as many vouchers as you can over the next few days, so you can use them on as many purchases as you want. Take note, though, that you can only use one voucher per purchase, so use your vouchers strategically.
And finally, hold your horses. 11 November is when the buying frenzy will truly begin. Last year, Lazada had discounts of up to 90%, so bide your time wisely. In the meantime, plan your purchases in advance so you can torment yourself with anticipation, while making sure you don't get derailed by impulse buys.
If you have a Citibank card, you can get 15% discount (capped at S$20) with the code CITIOR16. But you'll have to be fast though, as only the first 450 qualifying shoppers can redeem this code. In case you missed that, check out these other Lazada promo codes you can get from a credit card.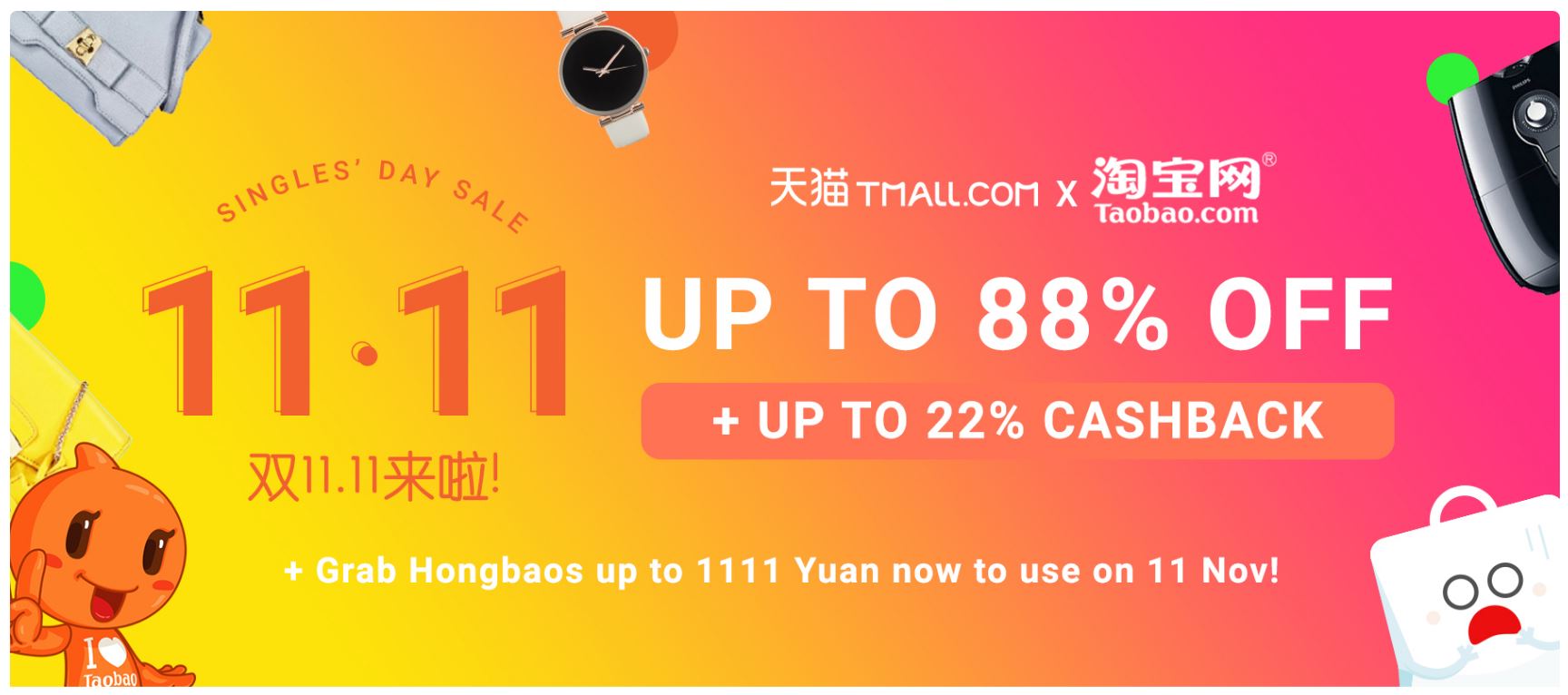 2. 11.11 Singles' Day Sale at Shopback
Discounts mean you pay less, while cashback gives you more money to spend on your next purchase. You can get both discounts and cashback during Shopback's 11.11 Singles' Day Sale.
Judging by the early deals released by Shopback, Singaporeans are in for a treat come 11 November. Higher cashback deals are already being put on the table, featuring big players in hotels, flights, and fashion.
Shoppers who buy directly from China can also get cashback, as the site has partnered Alibaba to offer up to 11% cashback on transactions involving Taobao, Tmall and Aliexpress.
So if you're considering joining the Chinese populace via the nation's most popular virtual marketplace, now would be a great time to sign up for a Shopback membership.
How to Make the Most of It
Shopback's premise is simple – you get cash rebates for every eligible purchase. So getting the most out of the 11.11 Singles' Day Sale is simply a matter of looking out for the best deal on the purchase you want to make.
Shopback is also advertising Tmall and Taobao's Hongbao giveaway, which lets you grab virtual dollars (in Chinese yuan) you can use during your 11 November shopping spree.
If you're savvy enough, head on over to Taobao.com and Tmall.com to give the game a try. But don't blame us if the promotion's cutesy game mechanics give you a headache.

3. Deals, Games and Discounted Shipping with Ezbuy
Ezbuy is one of the most popular freight forwarders which help Singaporean shoppers buy and ship direct from China. For 11 November, they're offering discounted shipping rates, so you can get even more savings on your total shopping spend.
Besides shipping discounts, you can also collect vouchers for savings, or take advantage of several early deals.
If you're a MI fan, you'll want to look out for ebuy's exclusive deals on their bestsellers. Discounts are slight when we last checked (7 November), but we're sure they're just gearing up to slash prices as we approach the big day.
How to Make the Most of It
To start with, head on over to ezbuy.sg and register for an account. You'll instantly get a voucher for 15% off your first international shipment with them. You can use this discount immediately with ezbuy's early deals to do some early shopping.
After logging in, don't forget to check in (via their website or on their mobile app) to receive your daily allotment of eCoins, which you can then use to play the daily jackpot. The top prize each day is an iPhone 7.
On 11 November, ezbuy is giving out free shipping for the first 1kg of your package. Thereafter, you'll receive 20% off shipping for the remaining weight.
Additionally, you'll be receiving a waiver of ezbuy's agent fees (normally 4% to 8% of total transaction cost), so go ahead and opt for their Buy-For-Me service. You'll enjoy the convenience and assurance of having an experienced agent shop on your behalf, without having to fork out extra fees.
Do note, though, that the above offers are only valid on orders submitted per user ID. You'll also have to make and pay for your orders from 0000 hrs to 2359 hrs, 11 November.

4. Up to 75% off SASA cosmetics
One-stop cosmetic specialty store SASA is joining the Singles' Day party with an online sale offering discounts of up to 75%!
From now till 13 November, you can get all your beauty, make-up and personal grooming essentials for lower prices. What's available you ask? Probably anything and everything you need I guess; I don't know, I'm not a woman!
How to Make the Most of It
SASA's deal is refreshingly straightforward: Discounted prices across a wide range of products that (as far as I can tell) covers you from head to toe.
There are no games to play for vouchers, nor secret codes to unlock. Just one glorious week of low, low prices.
However, the discounted rates are only available for online purchases, and you'll be re-directed to SASA's official store on Qoo10 to do your shopping.
Consider making a bulk purchase for items you use regularly to capitalise on the reduced prices. If a brand or product you've been curious about is also on discount, now would be a good time to pick it up for a try.

5. Pamper yourself with Hotels.com
Getting firmly behind the original spirit of 11 November, Hotels.com wants to help singles celebrate their singlehood. How? With a hotel stay, of course. 
From now through 11 November, the hotel booking website will be giving out special codes which you can use to get discounts on your next holiday.
How to Make the Most of It
One mystery offer will be made available each day. To unlock the offer, you'll have to visit the website and click on the corresponding door.
Each discount code will only be accessible from 0000hrs to 2359hrs each day, so do remember to visit the website every day to collect all the codes.
But that's not all. On 11 November, Hotels.com will be offering hotel deals of up to 70% off. And if you use the code 'SINGLES11', you'll also get a further 11% discount.
Each code can only be used once per booking, and restricted booking dates apply, but you should definitely keep a lookout for any deals coinciding with your travel plans.
6. Up to 70% Discounts With Zalora
Everyone's favourite online fashion store is offering huge discounts of up to 70% for Singles' Day. No tricks, no gimmicks, simply log on and start shopping.
Zalora promises "mad markdowns on your favourite labels", so whether you're looking to refresh your wardrobe, complete your collection, or try out a new indie label, now's the time to do so.
And gentlemen, we know that shopping for clothes is a chore. But fashion is so much more than just shirts and pants; a few well-chosen accessories is all you need to update your look.
Start with a sleek belt, oversized watch and nice shoes, and go from there. Also, there's grooming stuff on sale so there's really no reason not to get spick and span.
How to Make the Most of It
Use the code SPOILYOURSELF for an additional 25% discount, exclusively for 11 November only.
If you spend more than S$40, you'll qualify for free delivery, which will make your online shopping that much more convenient.
Don't forget there's also free returns for 30 days, so it's no big deal if you change your mind on your purchases.
There's also a welcome gift of S$15 off your first order if you sign up for their newsletter. If you have already done that in the past, well… email addresses are free and easy to get. Just sayin'.

7. Discounts, Games and Coupon Giveaways at Qoo10
If you're familiar with online shopping at all, you'll know about Qoo10.com. The e-commerce portal which sells everything from personal grooming essentials to home necessities is holding an 11.11 Grand Sale, which runs from 9 to 13 November.
Qoo10 has taken its gamification approach and turned it up to 11 for 'Qoo10 Day' (what it is calling Singles' Day). There's a Pokemon Go-lookalike game littered throughout its website and mobile app, coupons up for grabs, and a steady stream of special deals and sales for you to pick through.
How to Make the Most of It
Here's where your Pokemon Go skills will come in handy. Log in to Qoo10's website or mobile app to find and catch virtual creatures. Once caught, these will award you a certain number of tokens. Collect enough tokens and you can redeem them for rebate coupons.
These creatures, or Mamemons, can also unlock special rates on specific items for you, provided you catch the right ones.
But you'll get rewards even before you start flicking virtual balls at virtual creatures. Just log on to Qoo10, click on the 11.11 Grand Sale logo to get to the minisite, and you can click on the Royal Rewards banner to receive coupons.
8. Cotton On Brands at 40% Off
Pssst…. Did you know Cotton On is having 40% off storewide only on 11 November? Here's your chance to grab baby clothes and children's fashion, ladies shoes, and also stylish stationery and arts and craft supplies – literally at a steal.
How to Make the Most of It
If you're wondering why you didn't hear of this offer, that's because Cotton On didn't really advertise. Good thing, then, that you read SingsSaver's blog regularly!
Go get at the deals at cottonon.com/SG. Also, there's free delivery if you spend more than S$50. An easy feat for experienced shoppers like you guys, right?
9. Special Deals Plus 8% Off at Reebonz
Fashion and accessories purveyor Reebonz has prepared a specially curated list of deals only for Singles' Day. You can find handbags, shoes, leather products and haute fashion at up to 70% off!
Most of the deals are catered towards women, but don't despair men – we have our very own curated list. Think Kenzo slip-ons, Hermes cufflinks and Y-3 wallets.
How to Make the Most of It
When you're ready to checkout and pay for your purchases, don't forget to use your coupons to get further savings on top of the reduced prices.
There's SPOT8SG for 8% off and 11SPLURGE for 15% off.
10. Online Exclusives at Uniqlo
Japanese fast fashion giant Uniqlo is also getting in on the 11 November frenzy.
The chain has slashed prices on their most popular merchandise, so if you thought Uniqlo was affordable before, you'll find it downright irresistible on 11 November!
How to Make the Most of It
With Heattech and UL Ultra Light Down going on sale, now's a great time to stock up on thermal wear and winter clothing.
Uniqlo's popular jeans line is also going for sale (about 30% off, by our quick calculation), so go ahead and grab a pair. You can never have too many pairs of jeans anyway, especially when they're cheap!
11. Discounted Groceries, Household and Grooming Essentials at Redmart
Groceries take up a large part of a family's budget, so any savings are always welcome. Redmart has got you covered on 11 November, with a flash sale featuring up to 50% off.
More than 1,000 items are on sale, ranging from food and groceries, children and baby needs, pets, cleaning, laundry, beauty, personal care and grooming, and much more. There's something for every household here.
How to Make the Most of It
If it's your first order with Redmart, you can get S$11 off when you spend at least S$70; just use the code 11SALE11.
Take advantage of the discounted prices to stock up on household items, so you'll have an easier budget next month. If your regular brand isn't on sale, try another brand that is. You'll be saving money, and may even discover a new family favourite.
Stay tuned for updates as we track the largest shopping holiday of our time!
Pro tip: save even more when you pay with an online shopping credit card with rebates, like the Standard Chartered SingPost Platinum Visa Card.
Read This Next:
How to Save Money at ASOS From Singapore
Online Shopping Promo Codes Hidden in Your Credit Card

---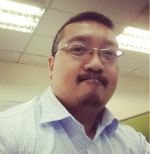 By Alevin Chan
A Certified Financial Planner with a curiosity about what makes people tick, Alevin's mission is to help readers understand the psychology of money. He's also on an ongoing quest to optimize happiness and enjoyment in his life.
---