Giving your spouse a supplementary card is another landmark on your road towards financial oneness, but do remember the implications.

Opinions expressed reflect the views of the writer (this is his story).
Getting married is an incredible thing, but it also opens up a whole lot of questions on the finance front. Apart from the usual "Should we get a joint account?" and "How do we split expenses?", a common question from many newlywed couples is, "Should we each get our own credit cards, or use a principal-supplementary card arrangement?"
In this post, we'll look at 4 questions you should ask yourself before deciding.
Q1: Who holds the debt?
Credit cards are held on an individual basis. In other words, a husband and wife cannot "pool" their salaries to try and apply for a higher-end card or get a higher credit limit. Approval and credit limits are based solely on the financial standing of the principal cardholder.
This also means that whatever debt incurred by the supplementary cardholder is the responsibility of the principal cardholder. For example, if Sally spends $500 on her supplementary card and John spends $1,000 on his principal card, John is the one who needs to pay the $1,500 outstanding.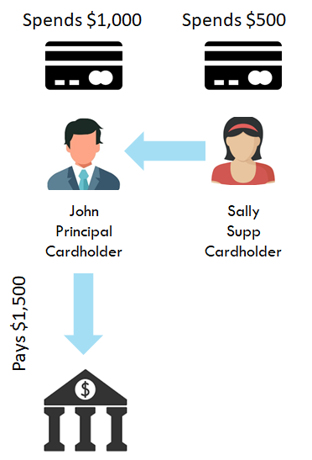 This ideally won't be a concern for most couples: if you're agreeing to marry someone, you shouldn't have concerns that they'll run away and leave you holding the bag! However, it does mean that if you want to use a principal-supplementary cardholder arrangement, the person with the higher income should apply.
Moreover, the amalgamation of spending means that you'll have a bit of an accounting exercise at the end of each month to separate personal and joint expenses. Out of convenience, it may make sense for both husband and wife to hold an individual principal card just for personal expenses.
Q2: Who holds the points?
Although the principal cardholder holds all the debt, he/she also holds all the points. In the same way that all the spending of the supplementary cardholder is taken to be the spending of the principal cardholder, whatever points the supplementary cardholder earns are taken to be the points of the principal cardholder.
For example, if Sally's $500 spending earns her 1,000 points, and John's $1,000 spending earns him 2,000 points, John will have a total points balance of 3,000.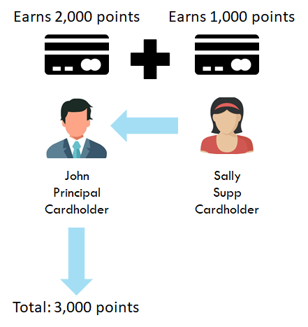 This matters because the principal cardholder can only transfer credit card points to his/her frequent flyer program (FFP) account, not to the FFP account of the supplementary cardholder.
Airlines can and do conduct audits, and if they find that someone else has been transferring miles to your account, they're entitled to shut it down and confiscate the miles.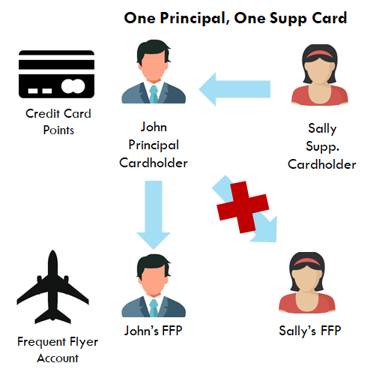 In essence, this means a supplementary cardholder cannot earn any miles of his/her own.
However, the principal cardholder can always redeem award tickets on behalf of the supplementary cardholder using the KrisFlyer redemption nominee system.
This means that John can redeem miles on Sally's behalf, but Sally cannot redeem any miles on her own.
Q3: Can you double your sign-up bonuses?
Sign-up bonuses are one of the best ways to jump start your miles balance, especially for newlyweds with big-ticket expenses like wedding banquets and renovations planned.
For example, the AMEX KrisFlyer Ascend card offers new cardholders a total of 59,000 miles when they spend $20,000 in the first 6 months after approval. That's enough for a round trip ticket to Sydney.
$20,000 sounds like a lot to spend, but a couple can work together to meet this goal. If John spends $10,000 and Sally spends $10,000, John will be taken as having spent $20,000 and the threshold will be met.
AMEX even gifts the principal cardholder an additional 1,500 miles each for the first two approved Supplementary Cards.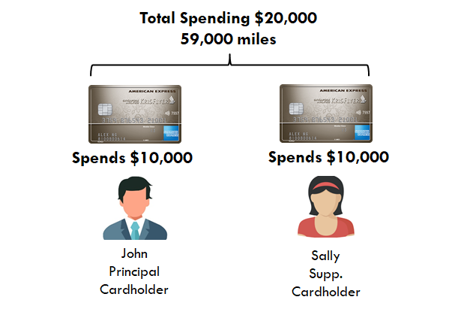 Therefore, if you and your spouse feel that you cannot hit a sign up threshold individually, a principal-supplementary arrangement is a way of teaming up to do so.
On the other hand, a couple can also use sign-up bonuses to double the rate at which they earn miles. Remember: sign-up bonuses are awarded on an individual basis, so a husband and wife are each entitled to one.
If John and Sally both get AMEX KrisFlyer Ascends and each hit the $20,000 threshold, they'll have a total of 118,000 miles.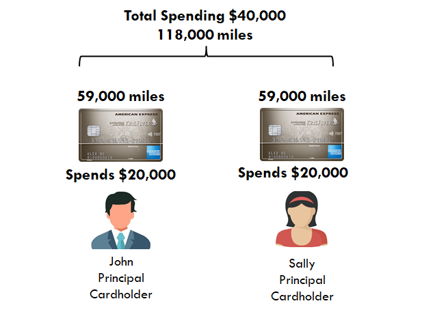 Whether a principal-supplementary cardholder or two principal cardholders arrangement makes more sense depends on the size of the sign-up bonus and the spending threshold. Other sign-up bonuses currently on the market include
Q4: Can you double your benefits?
Certain cards come with additional benefits like complimentary lounge access. These visits are granted on a per account basis: regardless of how many supplementary cardholders you have, a principal Citi PremierMiles Visa cardholder will be entitled to a maximum of two free lounge visits per year.
For married couples travelling together, this won't go very far. One trip is enough to exhaust your free visits!
Here's where getting two principal card accounts can make sense. If both husband and wife get a principal Citi PremierMiles Visa and DBS Altitude Visa each, they'd have a total of eight free visits which they can share among themselves and their family. What's more, the first year annual fee is waived on both cards, making this an inexpensive option.
Conclusion
Giving your spouse a supplementary card is another landmark on your road towards financial oneness, but do remember the implications that come with it. Also, aspiring miles chasers should look for opportunities to double benefits and sign-up bonuses by applying for a card each.
Read these next:
Travel Insurance: Does It Cover Redemption Bookings By Air Miles?
How (and How Not) To Get An Airline Upgrade
Should I Use My Credit Card Overseas to Earn Miles?
How Do You Value An Air Mile?
'Why I Prefer Miles Over Cashback Cards, All Day, Every Day'
---
---