Whether you're visiting home or want a holiday outside Singapore, there are ways to beat overspending on Christmas holiday travel.
There are many tips to save on travel and plane fares, but much of that conventional wisdom goes flying out the window during the Christmas holidays.
Unlike a leisure holiday, you can't choose when to celebrate Christmas. So when you're breaking the two commandments of cheap travel deals – flexibility and flying when there's low demand – you end up paying a premium on your travel costs.
Despite having no wiggle room, you can still travel over Christmas for cheap. Give these tips a try!
1. Fly on Christmas Day
If home is just a few hours away from Singapore by plane, consider flying on Christmas Day itself. Nobody wants to fly on Christmas, which means you can score fantastic deals by doing so.
For example, a one-way ticket from Singapore to Melbourne via Scoot costs S$207.63 on Christmas day, compared to S$257 if you fly on 23 or 24 December.
Flying on Christmas doesn't mean missing out on holiday festivities. One option is to leave very early in the morning, which is when most cheap flights leave anyway, and arriving just in time for Christmas lunch or dinner.
Another is to coordinate with your family and see if they're willing to celebrate the day after. If they agree to do so, everyone can save and avoid crowded airports, making the holidays actually enjoyable.
2. Control Extra Costs
Even if you have no flexibility over the holidays, you can still put a lid on the extra costs. For instance, you might not want to travel with a suitcase full of gifts and pay an extra S$40 or so for checked bags. Instead, travel with a carry-on and buy your presents online or when you reach your destination.
3. Use Your Air Miles
If you've been racking up air miles throughout 2015, now is the time to use them! Make sure to read the fine print of your credit card, as you may have to pay a small fee to convert miles to the airline of your choice.
With a credit card like the American Express Singapore Airlines KrisFlyer Card, however, the miles you earn go straight to your Krisflyer account. With this, you skip extra fees and enjoy the convenience of redeeming them online.
4. Check Your Credit Card's Travel Partners
There's no better time to stalk your credit card provider for deals than the holidays. Most air miles credit cards have partners with hotels, booking engines, and travel websites for special rates. Check which partners your credit card has and take advantage of their holiday deals.
For example, UOB PRVI Miles credit card gives up to 75% on hotel bookings at Agoda worldwide, and 10% off hotel bookings at Expedia.
5. Read the Fine Print
If your air ticket is too cheap to be true, read the fine print. Budget airlines are notorious for charging you for every small thing, from checked baggage to in-flight meals. Make sure to avoid ticking these options so you can get a sweet deal.
---
Related Article: 4 Reasons Budget Airlines Aren't Worth the Savings
---
Alternatively, compare prices and see what add-ons come with more expensive flights. An air ticket that costs more may end up delivering more value for money, especially if you're in the plane for 12 hours or more.
6. Travel Near Singapore
If you want to get away from Singapore during Christmas and have flexibility over your destination, why not take a road trip to Malaysia or a ferry to Indonesia? This lets you save serious money on pricey airfare costs, especially if you're traveling as a family. Food, accommodations, and sightseeing are also much cheaper at these destinations.
To start, check out this list of gorgeous beach getaways near Singapore that don't require a flight.
You Might Also Want to Read:
8 Insider Secrets to Booking Cheaper Trips Online
Which Air Miles Credit Card are You?
5 Unexpected Costs When You Book at Airbnb
---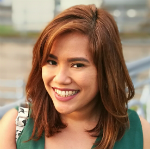 By Lauren Dado
Lauren has been a content strategist and digital marketer since 2007. As SingSaver.com.sg's Content Manager, Lauren edits and publishes personal finance stories to help Singaporeans save money. Her work has appeared in publications like Her World, Asia One, and Women's Weekly.
---