---
1. Searching for multiple awards at a time



Let's say you're looking to redeem a pair of Business Class tickets to Tokyo. You log in to your KrisFlyer account, plug in the dates, and get the following results.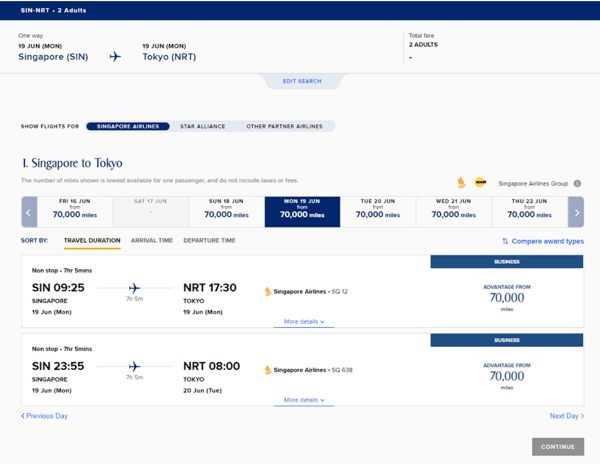 Source: Singapore Airlines
The only Business Class tickets available are the more expensive Advantage awards (70,000 miles). Cursing your luck, you book them anyway- it's not like you have a choice, right?
But wait! Suppose you did a search for one passenger instead…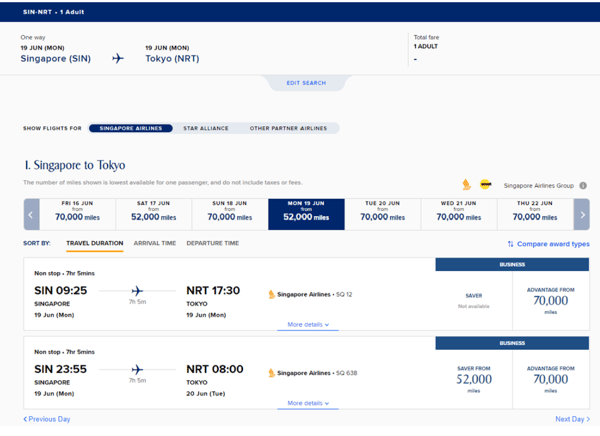 Source: Singapore Airlines
All of a sudden, a cheaper Business Saver award (52,000 miles) has opened up on SQ638. What's going on?

You've just run into a quirk of the Singapore Airlines website. Since you've requested more seats than the number of available Business Saver awards, the system defaults to offering you Business Advantage awards instead for all passengers!

What you should be doing is searching for one passenger at a time. In this scenario, you could be paying 52,000 + 70,000 =122,000 miles for two people, instead of 140,000 miles!

The same logic applies to those who want to avoid the waitlist. If you search for two awards but only one is available for immediate confirmation, the system will offer you the waitlist for both. It's much better to redeem one award first and waitlist for the other, since the odds of a single waitlist clearing are much better than a pair.
---
2. Mixing up Spontaneous Escapes awards with regular awards
Each month, Singapore Airlines runs a promotion called Spontaneous Escapes, which offers 30% off selected Business Class, Premium Economy Class, and Economy Class awards.

While these can represent great value, they come with different rules from your regular Saver and Advantage awards. The main thing to note is that Spontaneous Escapes awards are strictly non-changeable and non-refundable. If you can't fly on those dates, your miles are forfeited.

Source: Singapore Airlines
So if you see the "Promo" category pop up when booking, make sure you know what you're getting into before you pull the trigger!
I'd also recommend purchasing travel insurance that comes with coverage for frequent flyer miles and points, in the event that an unforeseen incident prevents you from taking your trip. Such policies are offered by AIG, Chubb, Etiqa and Singlife, to name a few.
---
3. Not considering alternative airlines
Singapore Airlines is part of Star Alliance, which means your KrisFlyer miles can be redeemed for flights on any of its 25 other member airlines. Not knowing this can severely limit your ability to find award seats!

Suppose you want to travel to Bangkok. A quick search shows that Singapore Airlines is offering absolutely no award seats for the whole week.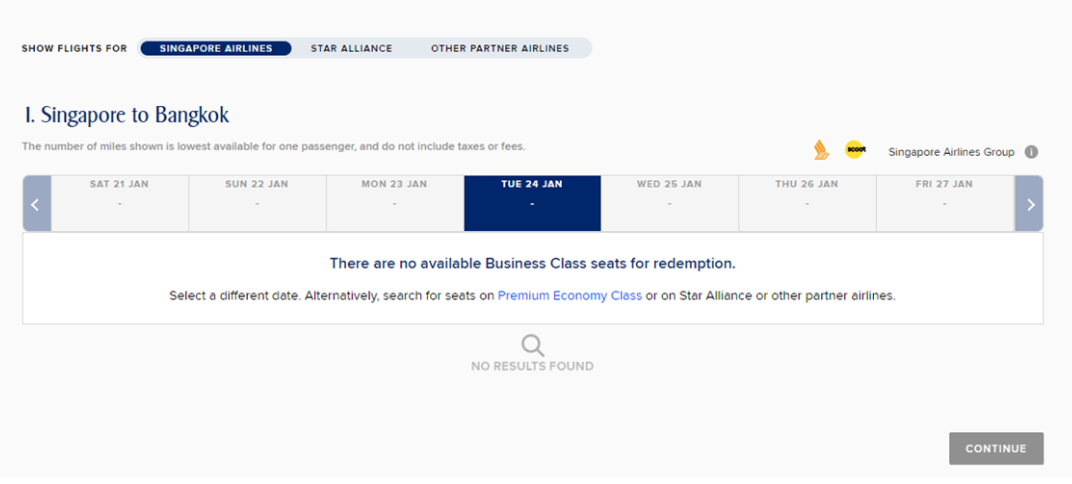 Source: Singapore Airlines
But all you need to do is click the "Star Alliance" tab on top, and you'll see options on THAI Airways appear.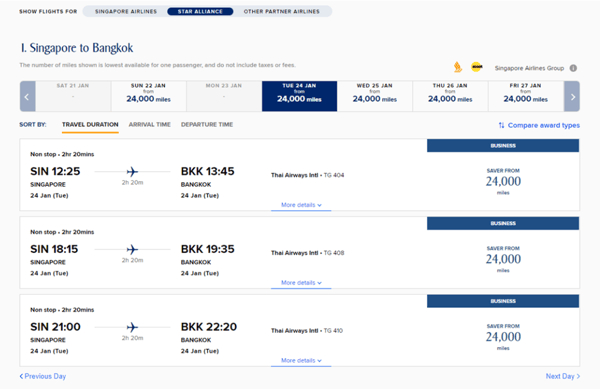 Source: Singapore Airlines
Do note that Star Alliance awards may price slightly higher than awards on Singapore Airlines, and may have hefty fuel surcharges depending on the carrier. Still, it could be the difference between redeeming miles and having to buy a cash ticket.
---
4. Redeeming miles for Economy Class awards
This might be a bit contentious, but if you ask me, redeeming miles for Economy Class seats is a mistake.

Suppose you have 220,000 miles. That's enough to fly two people to Tokyo in Business Class, or four people in Economy Class. Some may say that it's a no-brainer to choose the latter since it ends up saving you more money.

It certainly will, but I see things a bit differently. I would think that most people who can afford a holiday in Japan would also be able to pay for Economy Class (or budget airline) tickets if push came to shove. On the other hand, most people wouldn't be able to afford Business Class tickets.

Therefore, I believe it's better to use miles for access rather than value; by redeeming miles, you get access to a kind of experience you wouldn't otherwise have been able to have.

Moreover, it's much more common to see Economy Class tickets go on sale than premium cabins. When cash prices are low, the value you get per mile is also much lower.
---
5. Redeeming miles for non-flight options
If you twisted my arm, I'd say it might be permissible to redeem Economy Class tickets in certain scenarios (perhaps when you're taking a short-haul flight, and the cost of cash tickets is disproportionately expensive). But I would never advise anyone to redeem miles for non-flight options.

In addition to flights, KrisFlyer miles can be used to:

Book hotels and rental cars via KrisFlyer vRooms

Buy tours and activities via Pelago

Redeem CapitaStars, Marriott Bonvoy, or Esso Smiles points

Shop on KrisShop

Shop at Kris+ merchants such as restaurants and retail outlets
Let me state unequivocally that all of these represent terrible value. You'll usually get 0.8 cents per mile or less when redeeming KrisFlyer miles on the ground, well below the 2 cents per mile or more value you'll get by redeeming flights.

If you regularly redeem airline miles for non-flight options, you might be better off earning cashback in the first place. To illustrate, suppose you have a choice between using a credit card that earns 1.5% cashback, or a credit card that earns 1.2 miles per $1. If you redeem your miles at an average value of 0.8 cents each, the cashback card would have given you a superior return.
---
6. Using Cash + Miles instead of redeeming an award flight
Singapore Airlines offers a Cash + Miles option that allows KrisFlyer members to use their miles to offset the cost of a ticket.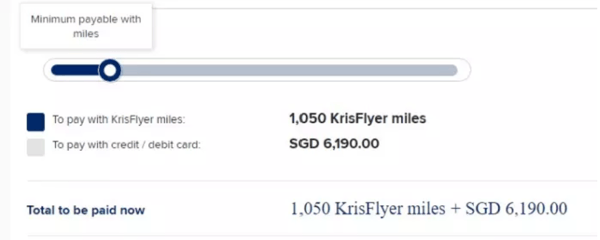 Source: Singapore Airlines
This is not the same as redeeming an award flight, as the table below shows.
| | | |
| --- | --- | --- |
| | Cash + Miles | Redeem KrisFlyer Miles |
| Availability | Any seat available for sale | Award inventory only |
| Min. Required | 1,050 miles | 8,500 miles |
| Taxes & Surcharges | Can be paid with miles | Must be paid in cash |
| Accrue Miles & Status Credits | Yes (on cash portion) | No |
| Value Per Mile | 0.95 cents | Varies |
With Cash + Miles, you can spend miles on any seat available for sale, regardless of cabin, route, or date. Miles can be used to pay taxes and surcharges, and you'll earn miles and status credits on the portion paid with cash.

With award flights, you are limited to award inventory, taxes and surcharges must be paid with cash, and you cannot earn miles or status credit on the award ticket.

But before you go away thinking that Cash + Miles is the superior option, consider the value. With Cash + Miles, each mile commands a fixed value of just 0.95 cents. With an award flight, the value is typically much higher than that.
To give a simple example, suppose you wanted to fly to San Francisco:
Redeeming KrisFlyer miles for a Business Saver award would cost 214,000 miles + S$84

Paying with Miles + Cash would cost upwards of 651,000 miles (based on a fare of S$6,200)
Assuming you can find a Business Saver award, then a KrisFlyer redemption represents much better value. And even if you can't, I'd much rather you wait for another opportunity instead of resorting to Cash + Miles.
---
7. Putting all your eggs in one basket
Once a critical mass of miles has been accumulated, a common mistake is to transfer the whole batch to KrisFlyer without further thought.

There's nothing wrong with KrisFlyer per se, but it might not always be the right tool for the job. Suppose you've accumulated 250,000 Citi Miles with the Citi PremierMiles Card and want to redeem a Business Class ticket to Europe:

If you redeem your tickets via KrisFlyer, you'd pay 207,000 miles per person.

If you redeem your tickets via Turkish Airlines Miles&Smiles, you'd pay just 90,000 miles!
Since Citi Miles transfers to KrisFlyer and Turkish Airlines Miles&Smiles at the same 1:1 ratio, it would make more sense to book your tickets via the latter instead.

This is an example of what we call a "sweet spot"- a redemption opportunity that offers outsized value. Different programmes have different sweet spots, so by spending some time comparing award charts, you can stretch your miles even further.

Moreover, diversification of your mileage currencies is basic common sense. If you put all your miles into one programme and that programme decides to devalue (by hiking award prices or increasing fees on awards), there's not a lot you can do.
---
Conclusion
Just like receiving your first paycheck, the giddy rush of making a first redemption can lead inexperienced miles collectors into easily-avoidable mistakes. Don't let the same happen to you!
---
Read these next: