Thinking of visiting Tokyo for this year's Sakura season? Here are the top tips for making the most of the cherry blossom season so you can plan your vacation now!
Cherry blossom season is on the way so now's the time to plan your vacation to catch hanami in gorgeous parks, enjoy romantic boat rides after dark, and be awed by spectacular illuminations surrounded by stunning blooming sakura. Skyscanner shows you when and where to enjoy Tokyo's spectacular cherry blossoms this sakura season.
Wait, before you go!
Remember to keep yourself covered against any unforeseen circumstances, including flight delays, loss of baggage and belongings, or illness and injury overseas. The best time to buy travel insurance is right after you confirm your travel dates. Easily compare and buy the best travel insurance plans to Japan with SingSaver.

When is the best time to see Sakura in Tokyo in 2019?
The best time to see cherry blossoms in Tokyo is during late March to early April. If you're hunting for cherry blossoms in Tokyo this Sakura season, be sure to check the cherry blossoms forecasts that will start to be updated from late January onwards. Plan and book your trip ahead of time to find the best deals! You can also check out some of the best sakura flight deals to Japan for cherry blossom season 2019 from Skyscanner.
Tokyo Sakura Season 2019
Full bloom: 24 March

First bloom: 17 March

Tokyo Sakura Season 2018
Full bloom: 24 March

First bloom: 17 March

Tokyo Sakura Season 2017
Full bloom: 10 April

First bloom: 23 March

Tokyo Sakura Season 2016
Full bloom: 1 April

First bloom: 20 March
Where are the best spots to see cherry blossoms in Tokyo for Sakura season 2019?
1. Ueno Park
If you're looking for a fun and vibrant place to see Sakura, head to Ueno Park, which is one of the city's most popular spots to enjoy the blossom. The park features more than 1,000 trees which are all beautifully lit up after dark and the mixture of somei-yosheino and mountain cherry trees bloom like stars in Sakura season. There are often special events and an antique market held in the park during Sakura season so take a stroll along the lantern-lit paths and enjoy the festive atmosphere. It's worth noting that Sakura often blooms here 2 to 3 days before other parts of the city.
2. Sumida Park
Sumida Park is another popular spot to hanami, so join the crowds and head to the area between Azumabashi and Sakurabashi bridges and join in the fun! Wander with the crowds and enjoy the 640 cherry blossom trees here alongside stunning views of the Tokyo Skytree. Trees along both sides of the river are illuminated after dark and for a romantic evening, enjoy a slow boat cruise down the river.
3. Shinjuku Gyoen Garden
This beautiful garden was once the regal residence of a renowned samurai family but is now a gorgeous park with over a dozen varieties of blooming cherry trees and spacious, tranquil lawns perfect for lazing on your picnic mat and soaking up the atmosphere. As many of the trees here are late blooming varieties, if you miss the peak blooming period in Tokyo head here to get your dose of Sakura this year.
4. Chidorigafuchi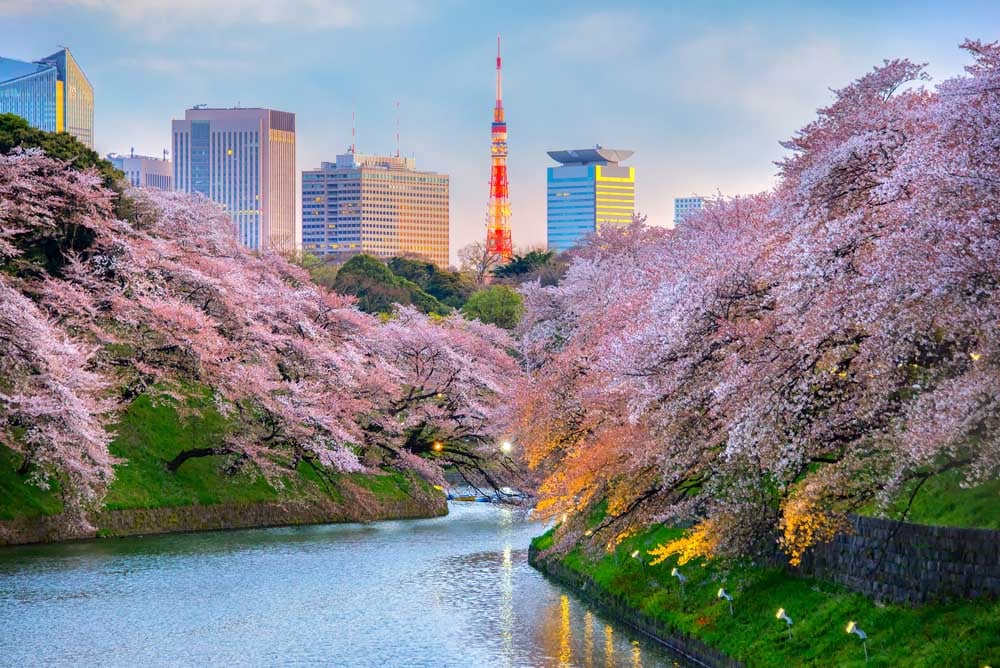 Rent a boat for a spectacular view of the cherry blossoms around Chidorigafuchi
Undoubtedly one of Tokyo's best cherry blossom viewing areas with the spectacular sight of hundreds of blooming cherry trees lining the moat surrounding Edo Castle. While it is forbidden to picnic here, renting a boat and rowing along Hanzo Moat at night under the illuminated blossom is a spectacular experience. If you get hungry, head over to the nearby Yasakuni Shrine which has lots of food stands and over a thousand cherry trees.
5. Mount Takao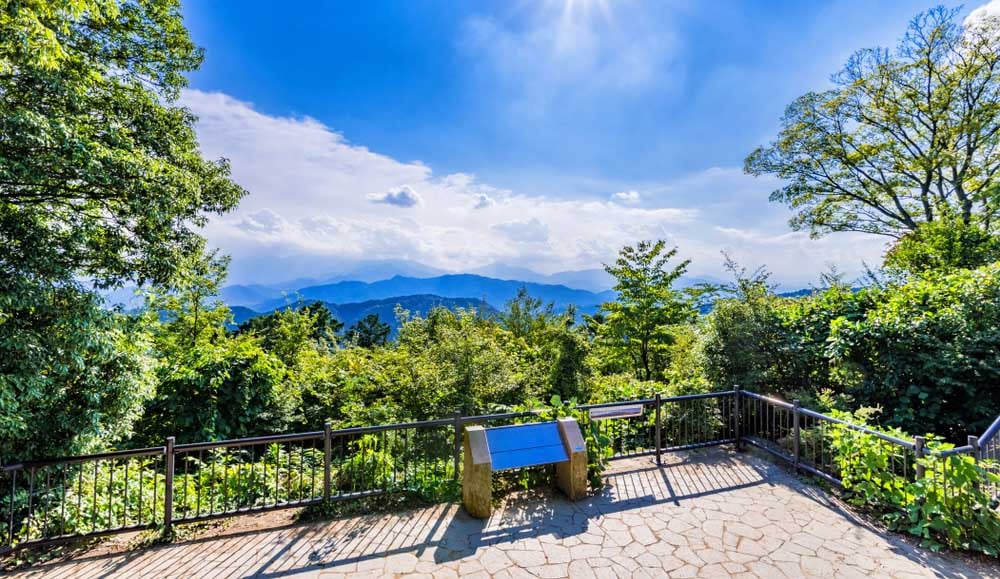 Hop on a train from Shinjuku for a short ride out of town to enjoy the Japanese countryside and a hike up Mount Takao. The mountain, at only 599m in altitude, isn't a particularly challenging climb but rewards with ancient temples, pristine fresh air and a number of hanami spots beneath the cherry blossom trees. For the best spot to see Sakura, hike a further 30 mins from the summit until you reach the Takaosan Senbonzakura area and enjoy the different varieties of trees in bloom. It's also worth noting that several of the varieties of tree bloom around two weeks later than in central Tokyo.
| | |
| --- | --- |
| How to get to Mount Takao | Take a Keio Railways train (50 mins) for S$5 (JPY 390) from Shinjuku station to Takaosanguchi station and then hike the mountain! |
| Where to stay | Find accommodation near Mount Takao |
6. Yoyogi Park
With over 600 cherry trees, the spacious Yoyogi Park is a fun place to hanami. The park is renowned for its gatherings and markets and on Sundays, it is a mecca for the city's cosplayers, which makes it a perfect spot for Tokyo people watching. Also, one of the varieties of cherry blossom tree in the park, which has darker pink blossoms than the more commonly seen somei yoshino blossom, usually blooms several days earlier than the forecast date so if you're in Tokyo before most of the trees blossom, head here and you might strike gold!
7. Asukayama Park
Asukayama Park is one of Tokyo's most revered and famous places for viewing the blooming cherry trees. The park is perched on a hilltop and is much quieter and smaller than more popular spots such as Ueno and Sumida, so is great for a breather from the crowds and also features a cool playground which includes a disused train and tram, perfect for kids to explore. Little rail enthusiasts will also love the free monorail that takes people up the hill to the park!
Where to stay in Tokyo during Sakura season?
It's important to note that Sakura season is super peak season in Tokyo and prices skyrocket, so it pays to do your homework and book as early in advance as possible. Also, try and snag a place near the JR Yamanote Line so you can save time, money and energy getting to the key areas. The line is well connected to prime cherry blossom viewing spots such as Ueno and Shinjuku and other tourist districts including Shibuya and Akihabara. The best three areas to start narrowing down your search for the perfect Tokyo digs for Sakura viewing are Shinjuku, Shibuya and Ueno. Find cheap hotels in Tokyo now. Happy hunting!
First published in February 2017 and updated in January 2019. Any prices are lowest estimated prices only at the time of publication and are subject to change and/or availability.
This article was first published on Skyscanner
Keep yourself covered with the best travel insurance plans
Whether you're travelling near or far, be sure to get the right travel insurance coverage that best suits your needs. From flight delays and lost baggage, to accidents and other unforeseen circumstances, travel with peace of mind with the best travel insurance plans in the market. Compare and buy the best travel insurance plans to Japan with SingSaver.

What to read next:
10 Travel Bucket List Experiences That You Should Buy Travel Insurance For
'Hack' the 11 Public Holidays in 2019 and get 36 more!
Travel Insurance: Does It Cover Redemption Bookings By Air Miles?
Top 6 Air Miles Credit Cards in Singapore 2019
6 Times You Wish You Had Bought Travel Insurance
---
By Skyscanner
Compare and find cheap flights, hotels and car rentals for top destinations around the world on Skyscanner Singapore. Book cheap flights, hotels and car rental via Skyscanner today, or download the free mobile apps for easy browsing and booking on the go.
---