Singapore will have seven long weekends in 2023. Here's how you can utilise them to the fullest.
[29 September 2022 update] The Ministry of Manpower (MOM) has announced that Vesak Day will now fall on 2 June 2023 (Friday), bringing the number of long public holiday weekends in 2023 to seven.

2023 holds many promises, with a multitude of auspiciously timed public holidays in Singapore that will result in seven delightfully long weekends for you to pamper yourself. With strategic use of your paid time-offs, you can draw these public holidays out to the fullest.
In fact, it can make the difference between a simple weekend at home and a six-day trip to Vietnam or Bangkok.
It feels like it was just yesterday that COVID-19 was an international pandemic that disrupted our way of life. Today, travel has recommenced, with Malaysia and many other countries opening their borders. You can meet as many people as you please, and most importantly, finally go out without a mask.
Do not look elsewhere, for you can find the most comprehensive guide here on how you can best utilise your annual leaves in a hopefully, COVID-19-free 2023.
Why is this important?
You may think that these public holidays are trivial since they are entitled to you anyways. However, they are in fact opportunities for you to capitalise on to reap the most you can from your stipulated annual leaves and paid time off.
As recited repeatedly by health care experts worldwide, a long vacation does wonders for your mental health and well-being. Most importantly, it prevents burnout from prolonged periods of overwhelming workloads and demands (as many of us can relate to during crunch periods).
These opportunities are transitory too, for it is not just you that's looking for a break. Your colleagues and co-workers will be jumping at the first opportunity to secure these crucial dates as well, making it extremely competitive unless you have a good head start.
Long weekends in 2023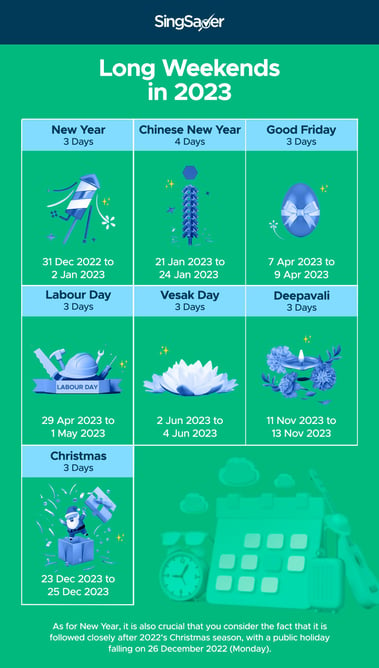 Optimise your annual leaves and public holidays in 2023
According to the Ministry of Manpower, a typical 1st-year employee is entitled to 7 days of annual leave, though it may vary depending on your company's own human resource policy.
It is more common for companies, however, to offer around 14 to 16 days of paid time off. For the sake of a more realistic outline, we will base it on this threshold.
Public holiday in 2023
Proposed annual leave period
Number of annual leaves
Long Weekend
Total number of consecutive vacation days
Christmas/New Year
27 December 2022 to 30 December 2022
4 days*
31 December 2022 to 2 January 2023
10 days
(24 December 2022 to 2 January 2023)
Chinese New Year
25 January 2023 to 27 January 2023

30 January 2023
4 days**
21 January 2023 to 24 January 2023
10 days
(21 January 2023 to 30 January 2023)
Good Friday
6 April 2023 and 10 April 2023
2 days
7 April 2023 to 9 April 2023
5 days
(6 April 2023 to 10 April 2023)
Labour Day
27 April 2023 to 28 April 2023
2 days
29 April 2023 to 1 May 2023
5 days
(27 April 2023 to 1 May 2023)
Vesak Day
1 June 2023 to 5 June 2023
2 days
2 June 2023 to 4 June 2023
Deepavali
9 November 2023 to 10 November 2023
2 days
11 November 2023 to 13 November 2023
5 days
(9 November 2023 to 13 November 2023)
Christmas
26 December 2023 to 29 December 2023
4 days
23 December 2023 to 25 December 2023
10 days
(23 December 2023 to 1 January 2024)
*This is only applicable if you have unspent annual leaves within 2022's quarter
** This is an exceptionally popular period where many will choose to utilise their given paid time-offs
Under the assumption that an average employee is entitled to 14 to 16 days of annual leave, this chart allows you to get up to 20 days of vacation days from the end of December to the end of January.
However, this is only doable if you have an extra 4 days lying around within 2022's quarter. Also, the plan allows you to avoid the dreadful Monday blues, allowing you to return to work on a Tuesday (31 January 2023).
In fact, most if not all of these long weekends return you to the workplace on a Tuesday instead of a Monday. That way, you can kickstart your week refreshed, inspired and ready for anything that comes your way!
Focus on what's most important - You!
It is easy to neglect yourself when you have waves of obligations and responsibilities that sweep you further and further away until you can no longer see what truly matters. With proper planning, you can prevent these waves from turning into a devastating tsunami that threatens your mental well-being.
Use these public holidays to explore different hobbies, travel to exotic destinations or just chill at home. Do whatever brings you joy, and focus on the things that make you happy. There will always be work that awaits you, but not your mental health.
If you are struggling to cope with the constant hustle, so much that it is taking a huge toll on you, it is always recommended that you seek help from an experienced professional. If you fear the exorbitant fees that it may incur, you can find a list of insurers that can cover them to avoid another concern to worry about.
Give in to your wanderlust
After two long years of waiting, the skies (and seas) are finally opened once again for human discovery and exploration! With these long weekends and public holidays that await you in 2023, get ready that luggage as you embark on your next extraordinary adventure.
Not sure where to go after being cooped at home for so long? Here are some popular destinations to consider:
Indulgence isn't cheap
Let's face it - regardless of what you decide to do during these long breaks, you'll be spending a tad more than you would usually in the name of indulgence. Yes, it may be well-deserved, but you do not want your financial woes to pile onto your existing worries. These long vacations are meant to reinvigorate you, not depress you.
If you are going to go all out, make sure you find a means to get the most out of the price tag.
Read these next:
Singapore-Malaysia Land Border Reopening: What You'll Need Before Driving to Johor Bahru
Latest GrabFood Promo Codes (April 2022)
Things To Do In Singapore That Get You The Most Bang For Your Buck (April 2022)
Travelling In A COVID-19 World: All You Need To Know (And Hidden Costs)
Driving to Malaysia in 2022: The Ultimate One-Stop Guide