1. Bangkok
Apart from the fact that it's less than 3 hours away, it's also one of those places where you can easily survive on below S$1,000 per month if you plan to stay at an Airbnb or hostel. There are also service apartments such as Staybridge Suites in Thonglor which start from S$100 a night.
From 1 September 2022, there is a new visa category known as the long-term resident visa scheme (LTR). Under this scheme, remote workers can live up to 10 years. The catch: you have to prove a salary of at least US$80,000 in the past two years. The company you're working for must be publicly traded and listed on the stock exchange or a private company with revenue of US$50 million in the past three years. If all else fails, you can fly back and forth.
Related to this topic: Cheapest Flights from Singapore to Popular Travel Destinations (Thailand, Japan, Taiwan, Etc.)
2. Chiang Mai
You wouldn't be wrong to say Chiang Mai is the OG of digital nomad destinations. In this tranquil setting, it's entirely possible to work by the seaside, mountain, or a river any day.
Thanks to the low costs of living and solid internet connectivity, plenty of digital nomads have made their base here, so don't be surprised to find the cafes are usually quite packed. The upside - cheap and good food options are never far away, as is the abundance of chic cafes and co-working spaces. Arm yourself with a plan and an explorer's mindset to make the most out of your remote working experience in this historic Northern Thailand city.
Related to this topic: Instarem's amaze Card Review: Is It Still Amazing?
3. Bali
Eat, pray, work - Can you imagine living in Bali for five years?
If you can, clear with your boss and sign up for this remote work visa, pronto. Indonesia's Tourism Minister Sandiaga Uno is focusing on "serenity, spirituality and sustainability" as the three pillars of attraction to boost the local economy. With the myriad options for breezy open-air co-working spaces boasting fast Wi-Fi and strong coffee, remote workers will be spoilt for choice whether you decide to base yourself in laidback Canggu or hip and bustling Seminyak.
Living in a tourist hotspot means you'll have to resist the daily allure of trekking at the mountains or lounging at the spectacular surf beaches. But that also means your off work hours and weekends are that much more exciting!
Related to this topic: Best Air Miles Credit Cards In Singapore (2022)
4. Ho Chi Minh City
Much has been said about the traffic situation in Vietnam so we'll look at the positives.
Vietnamese cuisine is known for being light on the palate, and a generous use of herbs to enhance the ingredient's natural flavours. Popular dishes such as bahn me, grilled fish, and beef pho (noodle soup) are widely available at roadside stalls and inexpensive sit down restaurants, where meals can range from S$1 to S$5.
If you're planning to explore the surrounding areas, HCMC is a great base to reach other hotspots like the Mekong Delta. You can also venture out to beach towns such as Phú Quốc.
Related to this topic: Best Travel Insurance Plans And Promotions In Singapore (October 2022)
5. Kuala Lumpur, Malaysia
If we had to pick a place that's less than an hour away and costs less than S$200 to travel to, our neighbour's our best bet. Kuala Lumpur is a natural choice with its abundance of hip cafes and co-working spaces, and accommodation for short-term service apartments is relatively affordable at around S$70 daily.
For a cheaper option, consider Subang Jaya, located about 45 min drive away from the city centre. This Malaysian suburb feels somewhat like a throwback to Singapore in the 80s but at a slower pace. You can access the same creature comforts (amenities, clean and safe accommodation, a variety of food choices). The price comparison table below will give get an idea of potential cost savings.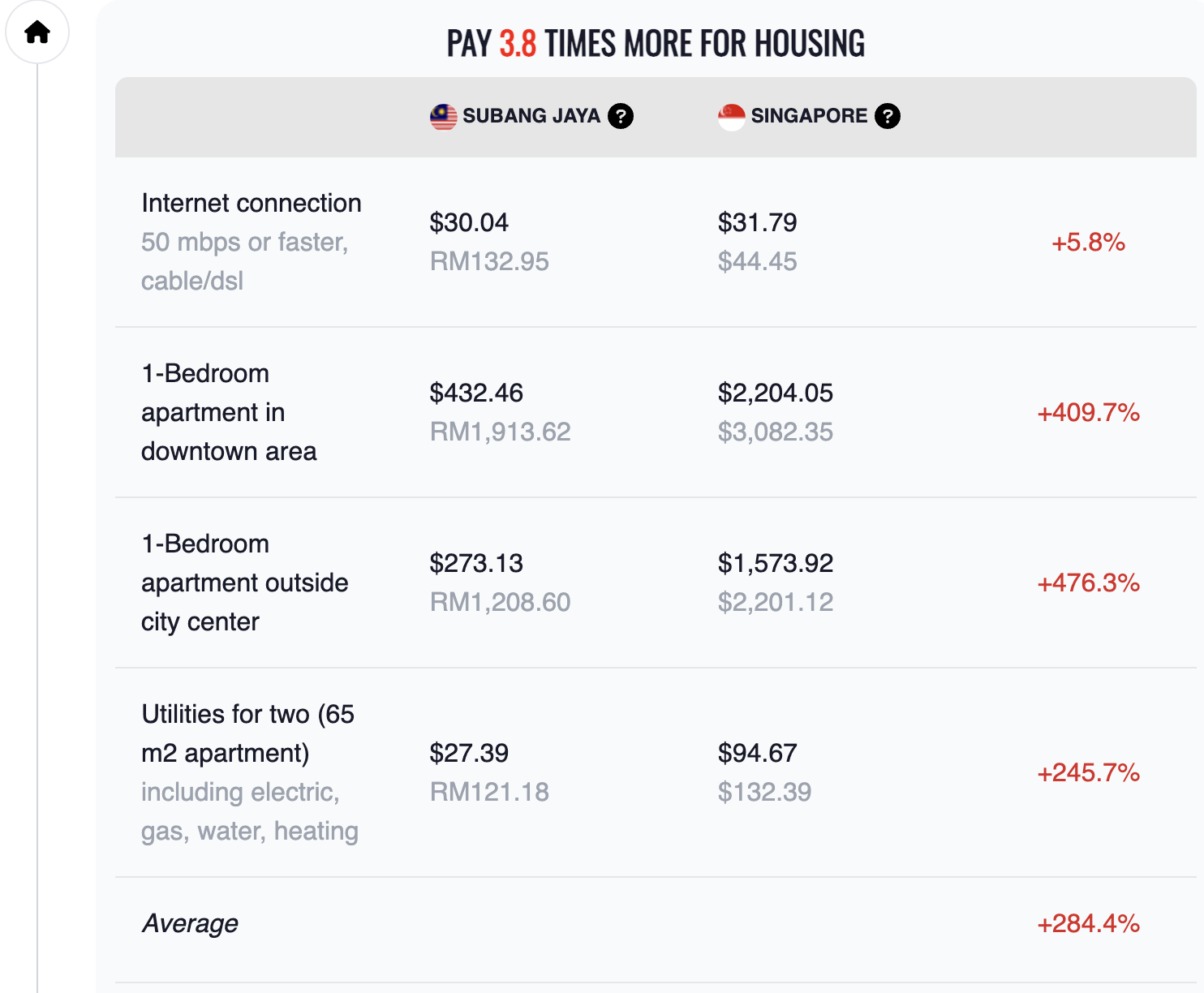 Related to this topic: Revenge Travel 2022: Get Even With These 16 Smart Travel Tips
6. Luang Prabang, Laos
This UNESCO World Heritage Site has attracted digital nomads with its mountainous landscape, architecture, culture, and history.
Tourist attractions aside, digital nomads flock to this city for its village vibes, which have few distractions to keep you from getting work done, possibly in half the time you would have taken.
If you need a break, this city is built for walking. Stroll through the temples and immerse yourself in the relaxed ambience. There are bars for happy hour, where you can unwind with sunset views over the Mekong.
While safety is generally at acceptable levels, crime does occur from time to time. Don't accept food or drinks from strangers and don't leave food or drinks unattended.
Related to this topic: 14 Best Portable Wi-Fi To Buy/Rent in Singapore For Overseas Travel
7. Tbilisi, Georgia
One of the safer European cities, Tbilisi takes so much pride in its remote working destination status, there's even a programme for it. 'Remotely from Georgia' allows citizens from 95 countries (yes, Singapore is included) to live and work in the country for at least 180 days. The main criteria are to be a freelancer or self-employed foreigner and have a minimum monthly salary of $2,000. Oh, and you have to pay taxes.
Barring the time zone differences, this is a great location for history and architectural buffs and it's also replete with nature, being located at the foothills of the Trialeti mountain range.
If you're staying near the city, accommodation costs around S$2400 monthly. Not the cheapest, but it costs about the same as renting a condo unit or co-living space in Singapore.
Related to this topic: What Does Travel Insurance Actually Cover? (and Best Plans for Cruises, Flights and Road Trips)
How much money do you need to work overseas remotely?
As with all things worth pursuing in life, you can start planning for your "workation" with a budget in mind. A general rule is to locate yourself in a place where the costs of living are relatively low with stable internet access while ensuring your safety is not compromised.
If that's the case, how far would a month's salary of S$4,000 go? If you go by the estimated costs of living in Hanoi from Digital Nomad World as an example, it should keep you living more than comfortably for a month or two, with a couple of neighbouring trips thrown in. Of course, before you go, ensure that you are protected with adequate travel insurance to handle any emergency on the road.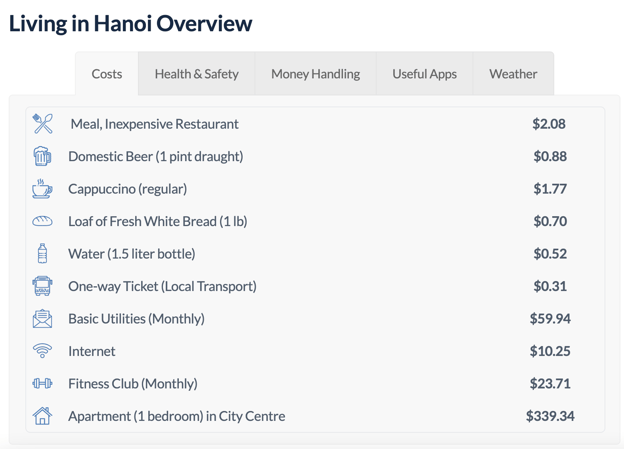 With food and accomodation being top concerns, things can add up pretty quickly.
Before you hop on that plane, equip yourself with a few handy recipes to whip up on your own.
Another way to cut down costs is to make friends and share an apartment. You'll be surprised by how easy it is to strike up a conversation with friendly strangers in a foreign land.
Of course, you'll need to be discerning about your choice of housemates, but the plus side of being a traveller (instead of a tourist) is that you will develop a sharper awareness of people and situations.
More importantly, be clear about what you are able to achieve from your "workation" and communicate it to your employer so that expectations are aligned on both sides.
Get adequate protection before you embark on your remote working adventure.