Invisalign provides an orthodontic treatment that is comfortable, removable and aesthetically pleasing. We unpack what's involved.
Pearly-white teeth and a beautiful smile help to contribute to people's first impressions of you. Perfectly aligned teeth also help to enhance your self-esteem and boost your confidence. However, for most people, their teeth alignment is far from perfect. Luckily, there are solutions to teeth misalignment through Invisalign braces.
We review what Invisalign braces are and the cost you can expect to pay for the invisible braces in Singapore.
What are Invisalign braces?
Invisalign braces are invisible, clear aligners customised to create the smile that suits you. The treatment uses 3D imaging software to accurately simulate the movement of your teeth into perfect alignment.
As compared to traditional metal braces, you will need to replace the invisible braces more often, but the good thing is that they are made of flexible materials, making them easy to remove and fix.
What teeth conditions can Invisalign fix?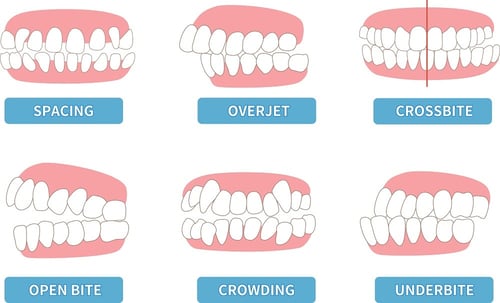 For most common orthodontic problems, Invisalign is one of the most effective treatments. This section looks at the orthodontic problems that Invisalign can address.
Misaligned teeth
Misaligned teeth result from genetics and habits such as thumb sucking. It makes it difficult to eat and chew. Invisalign is designed to deal with misaligned teeth by putting pressure on them and pushing them to the right place.
Depending on the complexity of your misaligned teeth, it takes 6 to 12 months to treat misaligned teeth using the Invisalign treatment process. If your dental condition is poor, you will need additional treatment for better recovery.
Crooked and crowded teeth
It can take 6 to 12 months to treat crowded and crooked teeth. Treating crowded and crooked teeth in children takes less than six months. So it's best to treat such teeth in the early years.
Overbite and underbite
Overbite occurs when your frontal upper teeth overlap with the lower front teeth. An extreme overbite may cause pain in your jaw. On the other hand, an underbite is when the lower front teeth cross over the upper teeth. An underbite inhibits speaking, chewing and eating.
Invisalign treats both overbite and underbite within a few months.
Crossbite and open bite
Crossbite is a condition where the upper teeth fit behind the lower teeth when your mouth is closed, similar to an underbite, but only affecting a group of teeth. Crossbite can lead to painful gums. An open bite results when your upper and lower teeth slant outwards and don't meet when your mouth is closed.
Invisalign aligners can treat open and crossbite issues by pushing the teeth into the rightful position.
Spacing
Spacing occurs when there is a gap between two or more teeth. Spacing causes speech issues, and food gets stuck in between teeth. Invisalign can treat small teeth gaps by exerting pressure.
Overjet
An overjet is an extensive horizontal overlap of your front upper teeth over your lower front teeth.
Invisalign treatment process
Here is what you can expect when visiting the dentist for the Invisalign process:
Initial consultation
The first step is to consult the dentist to understand what you need. The dentist will carry out an oral exam and an X-ray, and produce 3D images of your teeth. After the exam, the doctor will share the diagnostic details and advise you on the best option.
The dentist will help you understand your condition and advise on the best treatment option and the cost. You will also see a simulation showing the results after the treatment.
Invisalign treatment plan customisation
If you choose to embark on the treatment process, the dentist will customise a treatment plan that suits you. At this point, you get to see what your teeth will look like at each stage of the treatment process.
Treatment
After four to six weeks, the aligners will be ready. The dentist will guide you on how to put on the aligners. You have to wear the aligners for 22 hours every day and change them after 10 to 14 days.
Progress checks
The dentist will monitor your progress to ensure the treatment is working. Some of the clinics use AI technology to monitor the progress virtually. Using the technology will help reduce the number of physical follow-up appointments.
Completion of the treatment
After completing treatment, you will need to visit the clinic for a review and scan. The scan is used to manufacture the post-treatment retainers.
Maintain your teeth
Wear a retainer to keep your teeth in shape. The dentist will advise you when it's best to wear the retainers.
How much does Invisalign cost in Singapore?
Invisalign treatment costs around S$4,500 to S$9,000 in Singapore. It depends on your needs, requirements and complexity of the process. In addition to the cost of treatment, you may have to pay consultation fees separately. The number of aligners you need determines the complexity of the process. Invisalign treatment has four options: express, lite, moderate and comprehensive:
Express treatment is for minor teeth movements and relapse cases. It requires only seven sets of aligners.

Lite treatment is ideal for mild crowding and spacing issues. You will get up to 14 sets of aligners.

Moderate treatment works for less complex cases of crowding and teeth spacing. The orthodontist may prescribe up to 26 sets of aligners.

Comprehensive treatment requires a high number of aligners. If your teeth require more complex movement or extraction to create space, you must use the comprehensive treatment option.
The dentist will advise on the appropriate treatment option based on the complexity of your teeth condition. Below is a summary of the four Invisalign options.
| | | | | |
| --- | --- | --- | --- | --- |
| | Express | Lite | Moderate | Comprehensive |
| Number of aligners | Requires up to 7 clear Invisalign aligners. | Requires up to 14 clear Invisalign aligners. | Requires up to 26 clear Invisalign aligners. | An unlimited number of aligners may be required to achieve the desired outcome. |
| Ideal cases for treatment | Minor teeth movements and relapses. | Mild teeth spacing and crowding issues. | Moderate cases of crowding and spacing issues. | Severe teeth and crowding issues. |
| Additional requirements | An additional set of refiners for use before the treatment plan expires. | Two sets of additional refiners are included to be used before the plan's expiration. | An unlimited set of refiners are included for use before the plan expires. | Unlimited sets of refiners are included in the plan that you will have to use before the plan's expiration. |
Various factors determine how much you pay for the Invisalign treatment. Below are some of the main cost determinants.
Complexity of the Invisalign treatment
To treat severe teeth and jaw misalignments, you will need more aligners and visit the dentist more often. You will have to work with a dentist more closely to get your desired results. The refinements and aligners you need may be part of the original cost or result in additional costs.
Retainers and aftercare
After the Invisalign treatment, you will need retainers and aftercare. Retainers cost an average of S$400 to S$1,000 per set. You will also need to take extra measures to care for your teeth after the treatment.
Experience of the dentist
As dentists perform more Invisalign treatments, they advance to higher provider ties. Dentists with higher ties charge more fees than those with lower tiers. However, some higher-level dentists get discounts on Invisalign lab fees which they pass on to their clients.
Before selecting your dentist, check his/her tier and the fees charged.
How can you pay for Invisalign?
In terms of paying for Invisalign, you can consider the following options:
Insurance coverage
Your insurance coverage could help to reduce the amount of out-of-pocket cash you pay. Check whether your insurance covers the cost of Invisalign and confirm that the Invisalign clinic accepts insurance packages.
Insurances that cover braces will cover Invisalign. Most insurance plans will not cover the entire cost of Invisalign. They will cover a percentage of the cost or a fixed amount, with the balance to be paid by you.
Instalment payment, company reimbursements
Some dentists allow you to pay for Invisalign in instalments, such as through monthly payment plans. You could also check if your company's flexible benefits can be used to reimburse the cost of treatment.
Why should you choose Invisalign?
Easy to remove
Invisalign aligners are easy to remove, and they can be taken out when eating or drinking.
No restrictions on the food you can eat.
When wearing Invisalign aligners, there are no restrictions on the food you should eat. You can easily remove the aligners and enjoy any food.
Comfortable
Invisalign braces don't have sharp edges and don't require tightening. You receive aligners that are slightly adjusted every two weeks. That makes the Invisalign aligners more comfortable to wear.
Invisible
The Invisalign aligners are invisible, so you needn't worry about how they would affect your appearance.
Does not discolour
Traditional metal braces may cause teeth to discolour in certain places. Invisalign aligners are mounted on your teeth, making them easy to clean.
Fewer visits to the orthodontist
Compared to traditional braces, you will need fewer visits to the orthodontist with Invisalign aligners.
How to choose the right clinic for Invisalign treatment?
Treatment options
When looking for a clinic, choose one with a variety of treatment options and which uses the latest technology.
Cost of treatment
Review costs such as consultations and choose a clinic that provides the Invisalign treatment at a fair cost.
Location
Although this need not be a significant consideration, you can look for clinics offering the treatment near you for convenient follow-up appointments.
Credentials
Check the credentials and licence of the specialist before you settle on a clinic. Choose a clinic that has an Invisalign-certified dentist or orthodontist.
Is Invisalign treatment right for you?
Treatment with Invisalign can be pricey, but it treats most teeth and jaw issues. Invisalign aligners are among the best invisible braces and are especially suitable for those who frequently need to do public speaking or talk to others since they don't interfere with speech. A plus is that they permit you to eat all kinds of food!
If your smile needs a bit of work, then Invisalign is a safe bet to take care of most common teeth problems.
---
Choose from a range of credit card deals or use a cashback credit card to pay for your Invisalign treatment. They're sure to brighten your smile together with the makeover your pearly whites will receive!
Read these next:
11 Reasonable & Low-Priced Dental Clinics In Singapore – Price List Comparison 2022
How To Save Money On Dental Costs In Singapore
Top Credit Card Promotions and Deals on SingSaver
Best Cashback Credit Cards In Singapore (2022)
5 Credit Cards That Will Help You Save the Most Money in 2022