The tiny island of Jeju is perfect for a 5D/4N holiday. Here's everything you need to know about the holiday hotspot, including a recommended itinerary.
Best Travel Insurance Plans (2023)
Starr TraveLead Travel Insurance | Allianz Partners Travel Insurance | HLAS CovidSafe Travel Protect 360 | AIG Travel Guard® Direct | FWD Travel Insurance | Singlife Travel Insurance | Starr Cruise To Nowhere Travel Insurance | Sompo Travel Insurance | MSIG TravelEasy | Etiqa (TIQ) Travel Insurance | Tokio Marine TM Xplora Plus | Ergo Travel Protect

Jeju Island is an oval-shaped island located at the southern tip of the Korean Peninsula. It is well-known for its abundant natural beauty, spectacular sights and intriguing experiences, all thanks to its volcanic origins.
You see, the renowned island is home to Hallasan, which is classified as an active volcano, having most recently erupted around 5,000 years ago. Tectonic activity involved in the island's formation blessed it with a variety of biomes, including an ancient forest, vivid, flowering plains, volcanic tubes and craters, mysterious caves and beautiful beaches lapped by gentle, rolling waves.
Hallasan – incidentally, also Korea's highest peak – sits roughly in the middle of Jeju Island, and is flanked by Jeju City in the north, and Seogwipo in the south. The entire island measures just 73 km east to west, and 40 km north to south, and is crisscrossed by highways, making it easy to explore.
Table of contents
---
How to get to Jeju Island
Jeju Island has its own airport (Jeju International Airport), so it's possible to hop on a plane and fly straight there.
However, direct flights from Singapore to Jeju are rather rare, with Scoot seemingly the only operator offering a direct flight, and only on selected days (at the time of writing this article). If you're the type that doesn't believe in wasting time on stopovers, you'll want to lock down your flights early.
On the other hand, stopovers at Seoul or Busan typically last around around 10 hours or more, which – depending on the time of your flight – make for a good opportunity to go for a quick jaunt in these cities between flights.
Of course, this also means you can take a domestic flight from Seoul or Busan, if Jeju happens to be the second leg of your Korea holiday.
Related to this topic: 7 Credit Cards Which Give Free Access to Airport Lounges
---
---
Typical costs in Jeju Island
Accommodation
Accommodation in Jeju is generally affordable, with plenty of well-appointed, modern hotel rooms available.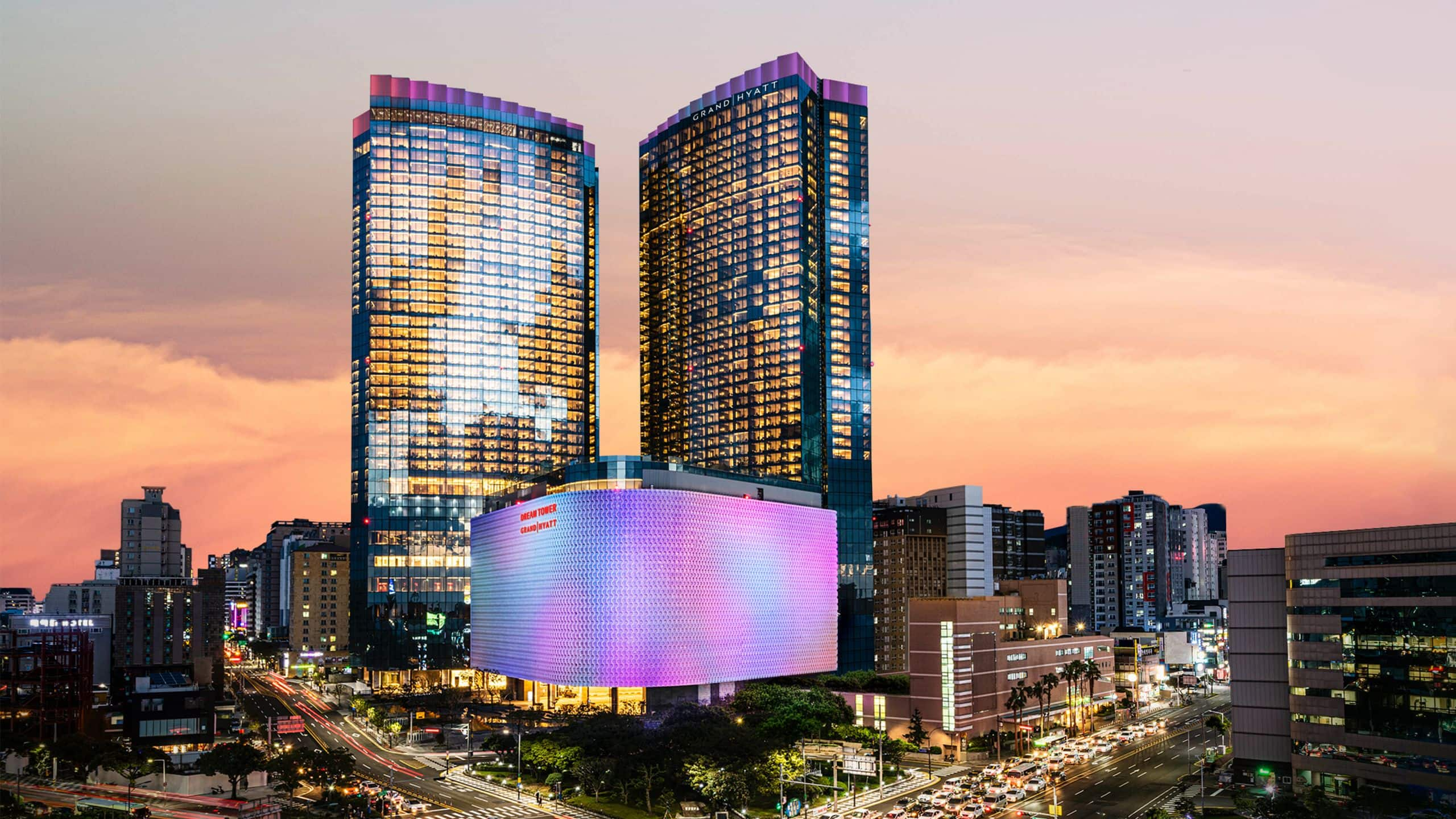 Source: Hyatt
The Grand Hyatt Jeju ranks among one of the swankier options, with stays starting at around S$400 per night. But for that price, you'll get an expansive 65 sqm room with gorgeous views and top-notch amenities.
Korea's own homegrown brands – Lotte and Shilla – are also worth checking out.

Source: Lotte Hotel
Lotte City Hotel Jeju offers 30 sqm rooms starting from around S$200 per night. This 4-star property has an outdoor pool and is connected to a shopping mall.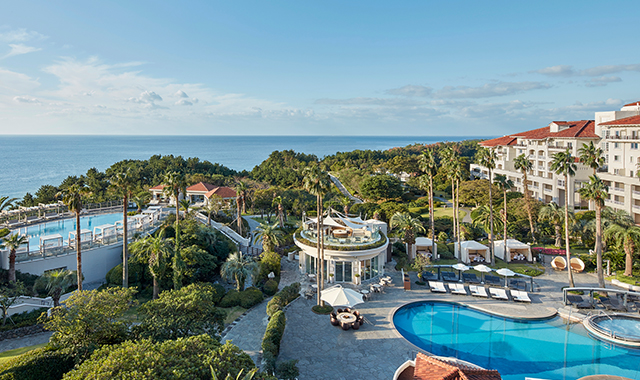 Source: Shilla Hotel
Meanwhile, stays at Shilla Stay Jeju start from around S$150 per night, but rooms are slightly smaller at around 25 sqm. This hotel is located just a 10-min drive away from the airport.

Source: Forbes
Other great options include Jeju Sun Hotel and Casino, which has rooms going for around S$150 per night (approx 27 sqm); and the beachside Hotel RegentMarine, with rooms starting from S$120 per night (27 sqm to 29 sqm).
Related to this topic:
Best Air Miles Credit Cards In Singapore (2023)
10 Overseas Accommodation Safety Tips For Solo Travellers
---

Meals
Food in Jeju is flavoursome, plentiful and highly affordable. A budget of around S$30 to S$50 per person per day will cover a mix of street food, casual eateries and cafes and restaurants.
You can adjust that range upwards or downwards as preferred, and likely still get by with little to no trouble.
---

Getting around
Jeju Island features a well-developed public bus system complete with tourist-friendly options.

Source: Trazy Blog
One such option is the Jeju Tourist Shuttle, which offers two services (810 and 820) that cover most of the island's tourist attractions and points of interest. A one-day pass costs around S$3 per adult.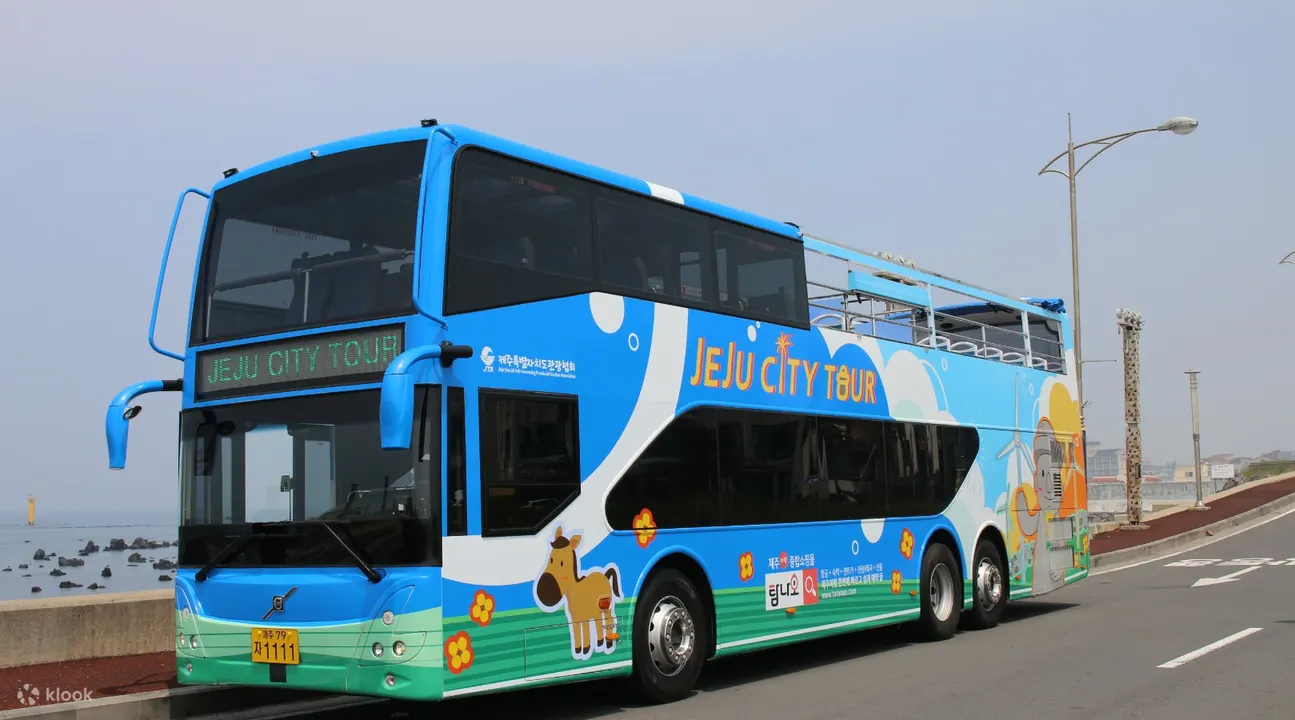 Source: Klook
Alternatively, you can opt for the Jeju City Tour Bus which covers locations near to the city centre. There are two routes offered – a city route, and a coastal route – which will provide you with plenty to see and explore. This is the more expensive of the two, with a day pass costing around S$12 per adult.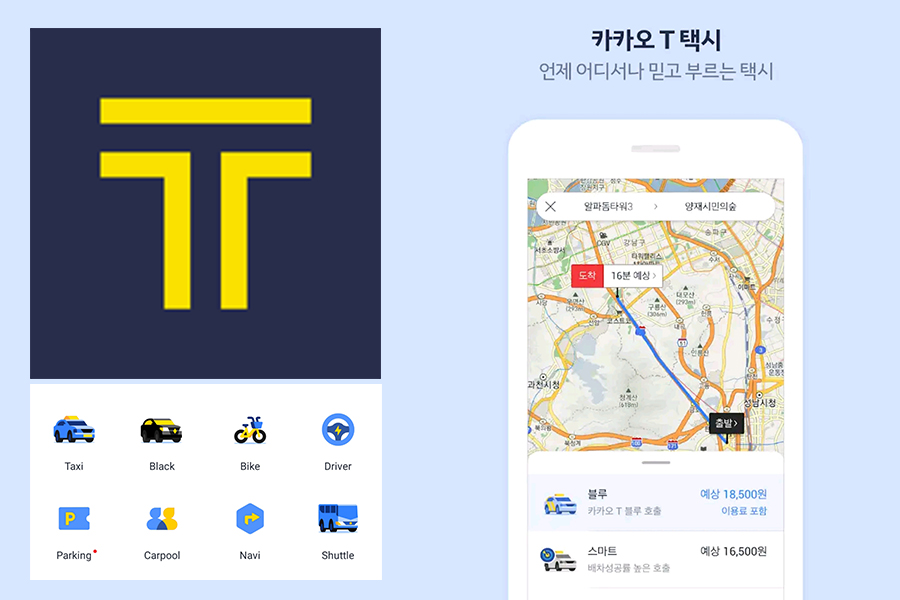 Source: Go! Go! Hanguk
If you're travelling with luggage or small children, you might want to opt for a taxi ride instead. You can book a taxi on Jeju Island with the Kakao T app (works similarly to Grab or Uber) and even pay the cab driver directly with your credit card.
Taxi rides are affordable, starting from around S$5 for short trips, and going up to around S$50 for hour-long ones.
💡Pro-tip: Download the Kakao T app before your trip. Once you change your phone's SIM card to a local Korean SIM card, you might not be able to receive the verification SMS to complete your Kakao account registration – even if you chose to retain your original number. As a result, you won't be able to use the app to book any taxis.

But if you're using a portable Wi-Fi Egg, it should be fine to download and register for a Kakao account even when already in Korea.
Related to this topic:
Best Travel Insurance Plans for Road Trips, Water Sports and Extreme Sports
Mobile Data Roaming: What are Your Cheapest Options When Travelling?
---

5D/4N itinerary for enjoying the best of Jeju Island
Before we begin our itinerary run-down, check out our 8 best travel tips for 2023 that addresses everything from budgeting to keeping safe and even some travel hacks.

Jump to:
Day 1: Jeju City
Jeju City is the capital of Jeju province. It is also where Jeju International Airport is located, making it a natural first stop for the island's visitors.

Source: TripAdvisor
The bustling city offers plenty of ways to spend your day. Head over to Samseonghyeol to learn about the mythological origins of the island; Jeju is believed to be the birthing place of the three demigods that created the ancient Korean kingdom of Tanma.
Source: Jeju Museum Korea
The nearby Jeju National Museum offers more to learn about Korean and Jeju culture to satisfy the history buff in you, while just beside, Sarabong Park serves up refreshing coastal views.
Source: Entree Kibbles
Proceed to Dongmun Traditional Market for street food galore, featuring classic home-style Korea dishes, meals and snacks.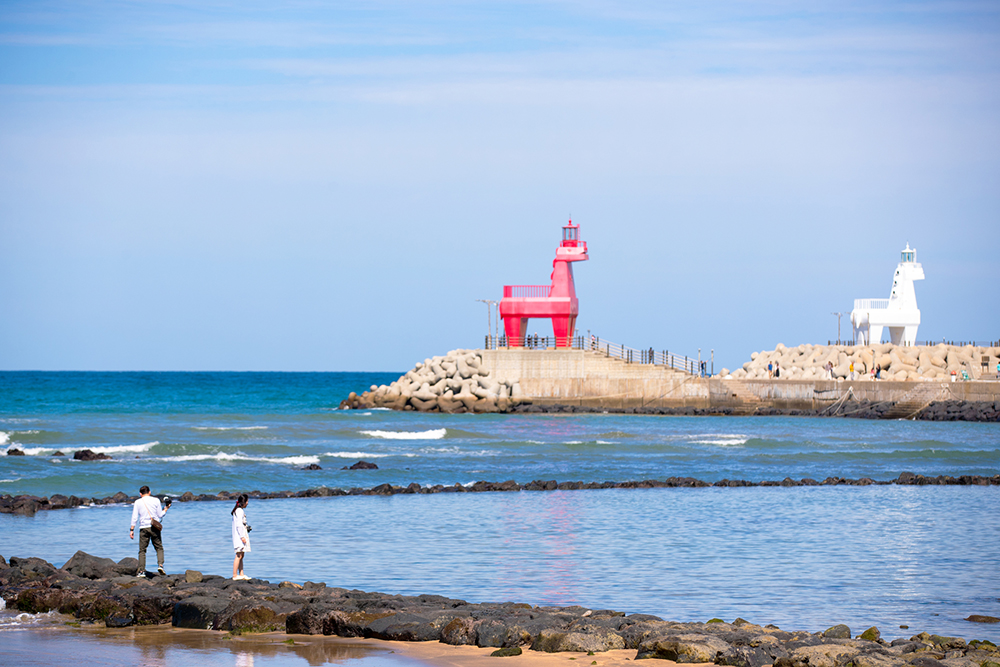 Source: Best Korea Tour Agency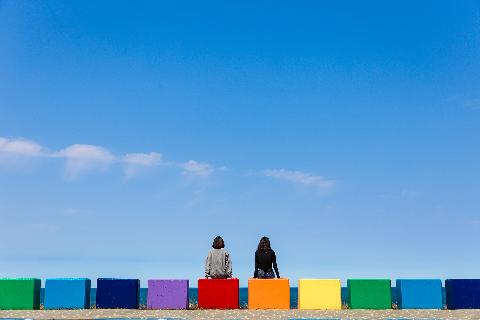 Source: www.visitjeju.net
Afterwards, take a leisurely drive over to laze the day away at Iho Beach – famed for its horse-shaped lighthouses – stopping by at the picturesque Dodu Rainbow Coastal Road along the way.
Stay till sundown, catching close-up glimpses of airplanes as they fly in and out of Jeju International Airport. Wander along the coastal road to find shops and restaurants serving up fresh sashimi and seafood, before heading back for the day.
Related to this topic: Where to Travel in 2023: Best Countries to Visit
---
Day 2: Hallasan, Seogwipo
For Day 2, get up bright and early and make your way south.
Your first stop is Mysterious Road, where you can witness a curious optical illusion that makes objects appear to roll uphill in seeming defiance of gravity!
Source: Korea Tourism Organisation
After that mind-boggling display, make your way to Hallasan National Park where you can hike along several hiking trails for breathtaking views and gorgeous scenery.
Spend the morning taking in the magnificence of Hallasan, then continue south to Heuree Nature Life Park, Sanghyowon Arboretum, Wonang Falls and the Seogwipo Forest of Healing to enjoy more greenery and nature.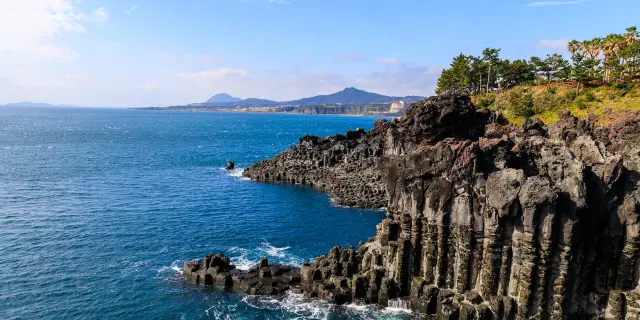 Source: Trip.com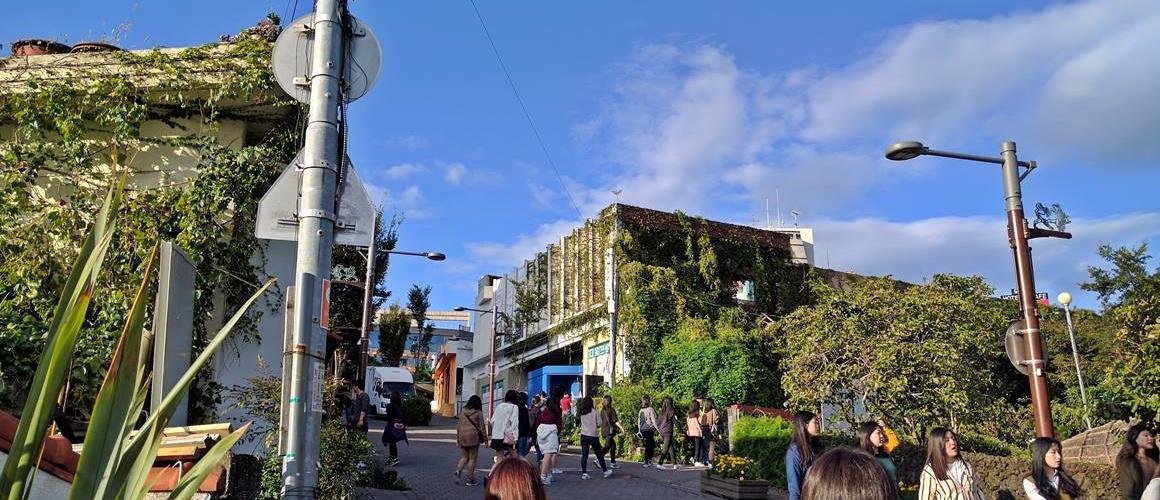 Source: m.visitjeju.net
Next, head into Seogwipo where you can spend the afternoon exploring Jeju's second-largest city to discover gems such as Lee Jung Seop-ro Street, a hip thoroughfare brimming with cafés, art galleries and street art, as well as the World Eros Museum, an adult-only museum which combines erotica and art.

Source: Jeju Tourism Organisation Travel Blog
As for sustenance, the popular Every Day Market (Mae-il shi-jang) serves up a variety of local Korean fare. Other notable restaurants include Negeori Restaurant and its signature hairtail fish dish; Ppolsaljib for Korean barbecue featuring black pork; Dajengine where you can order different kinds of gimbap (Korean seaweed rice rolls); and the Western-Korean fusion restaurant Seabong Kitchen,
Don't worry about staying out too late in Seogwipo – Jeju City is just 40 minutes away by taxi.
---
Day 3: Eastern Jeju
For Day 3, we'll be exploring the eastern district of Jeju Island.
The highlights in this region run the gamut from natural wonders like oreums (volcanic cones) caves and forests, to photo ops, aquariums and museums.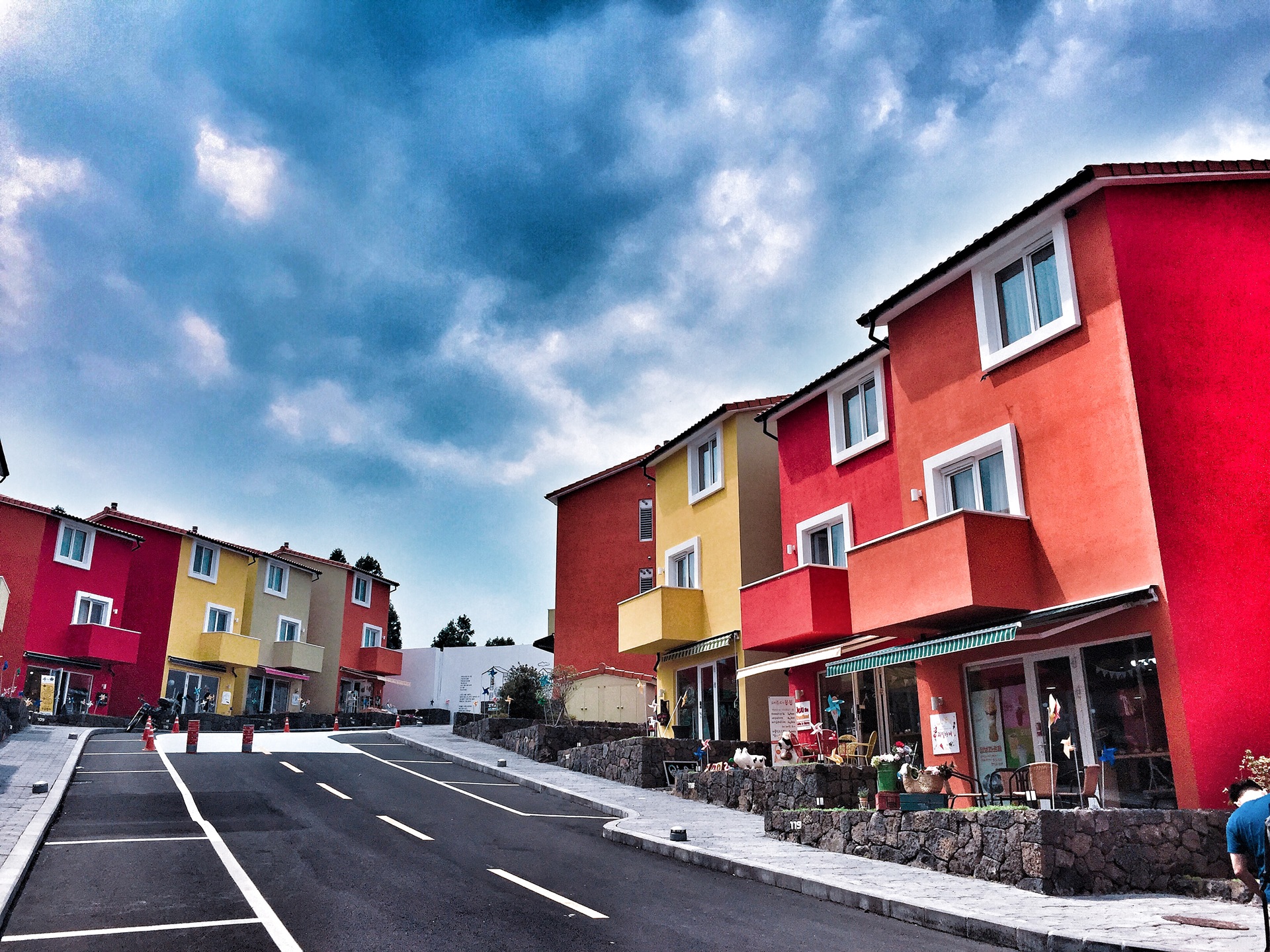 Source: m.visithjeju.net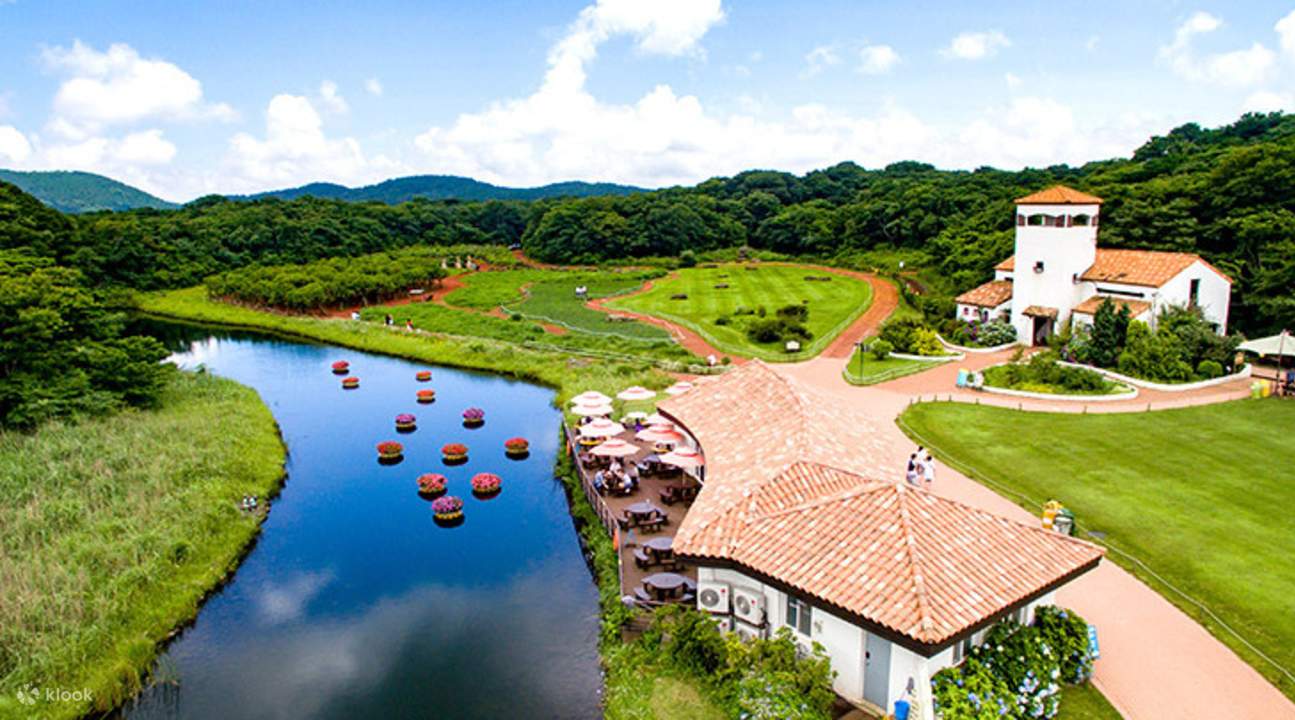 Source: Klook
From Jeju City, head east to Swiss Village and Ecoland for some fun, colourful and quirky photo ops, before zipping over to Geomun Oreum, an ancient volcano crater with caves and guided tours. While you're in the area, fans of Snoopy may want to make a pitstop at the nearby Snoopy Garden to take some photos.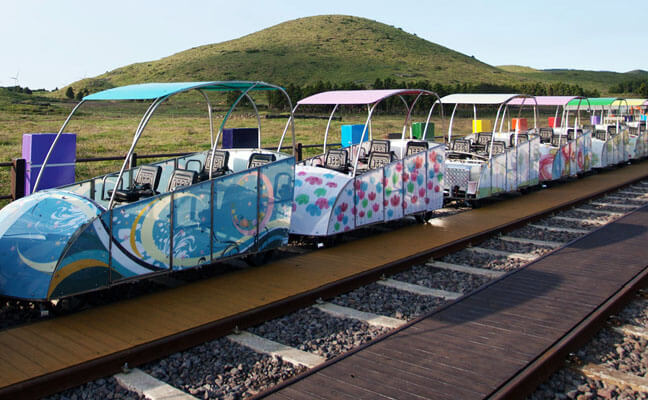 Source: Trazy
Next, head farther east to Jeju Rail Bike, a theme park where you can pedal your own power-assisted rail bike for a sightseeing tour of the countryside. After that, make your way to Udo-Myeon island – a serene and charming little island – by way of Udo Cheonjin Port.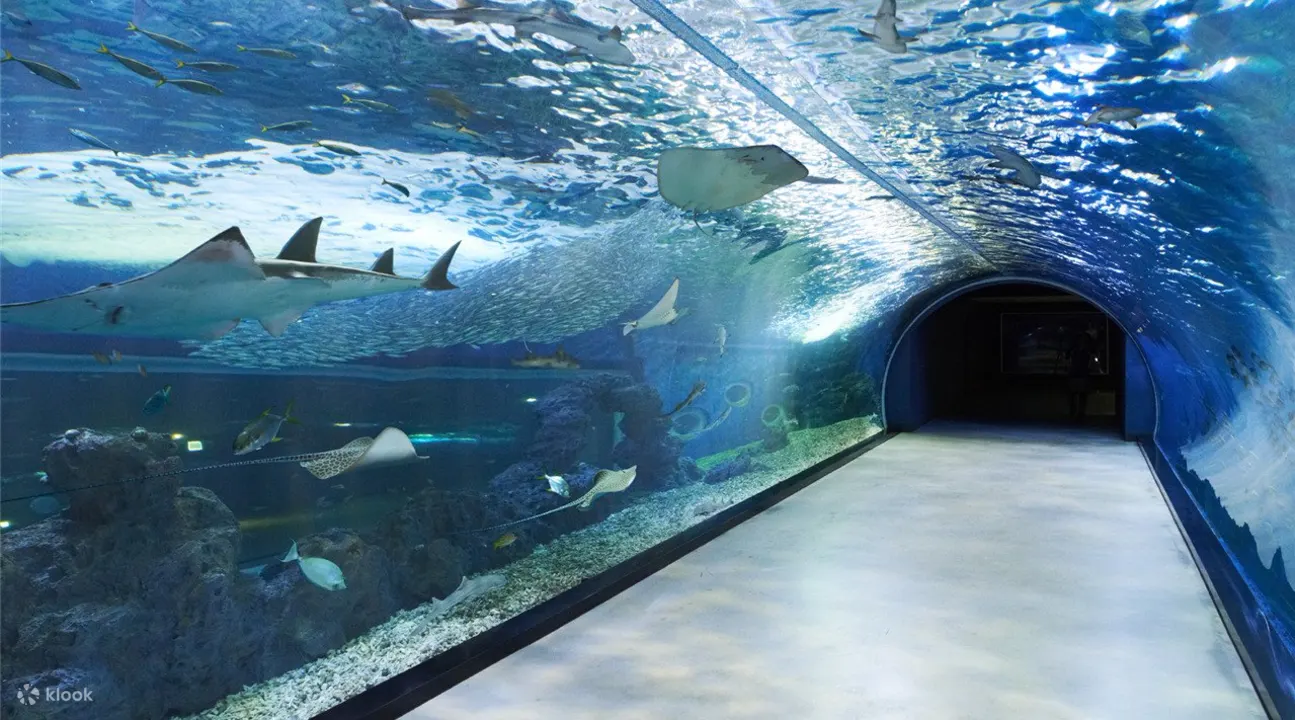 Source: Klook
If you prefer to stay on the main island, head south-east to Aqua Planet Jeju, the largest aquarium in East Asia, home to over 45,000 marine creatures from all over the globe. Nearby, view some art pieces at Yumin Art Nouveau Collection, or take beachside photos at Seopjikoji.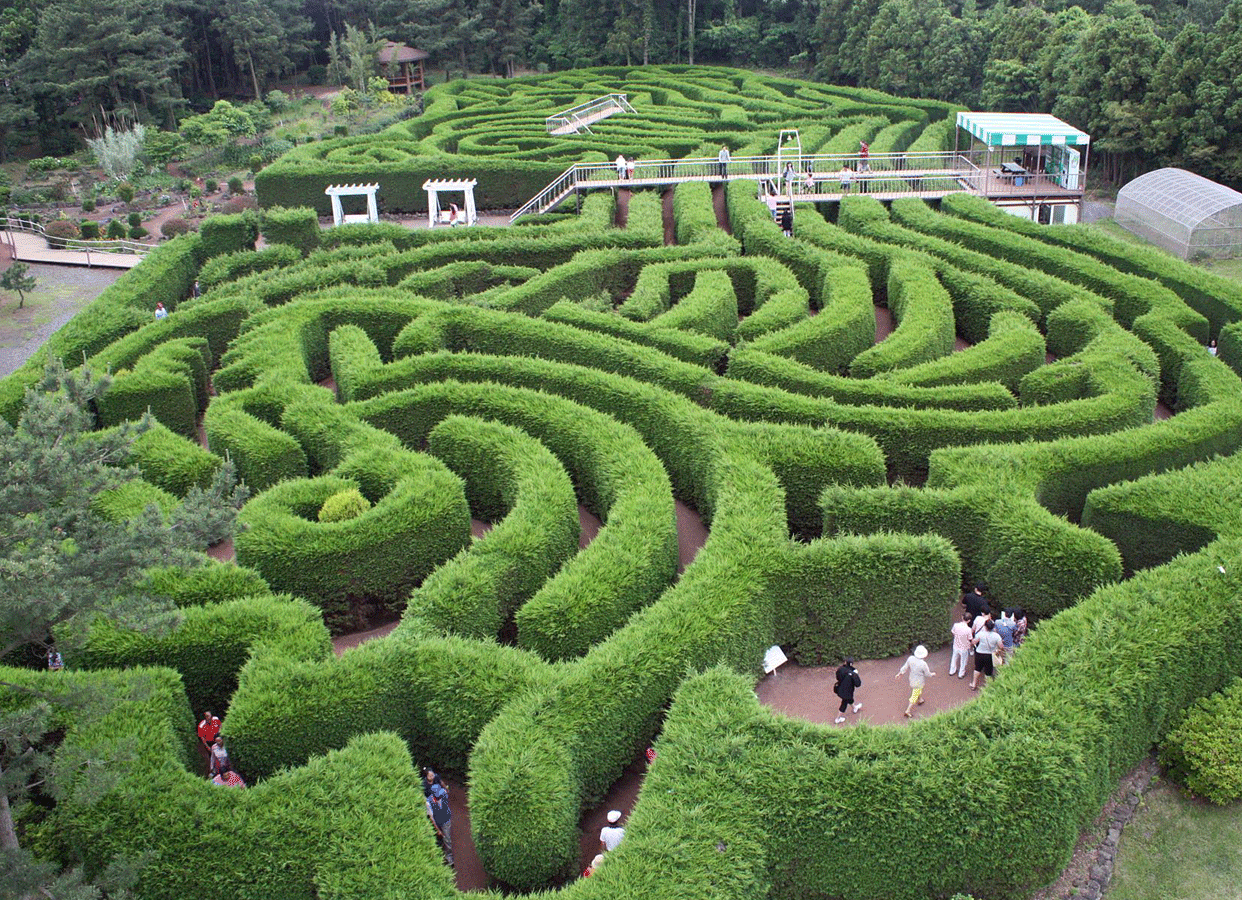 Source: m.visitjeju.net

Source: Trazy
Before making your way back to Jeju City for the night, drop by at Kimnyeong Maze Park for a game of tag, or head over to Woljeongri Beach to grab some dinner by the sea.
---
Day 4: Western Jeju
For Day 4, we'll be focusing on western Jeju.
There are generally two themes we can follow – one more family-oriented, and another for nature lovers and cafe-hoppers.
Related to this topic: Best Family Travel Insurance Plans (2023)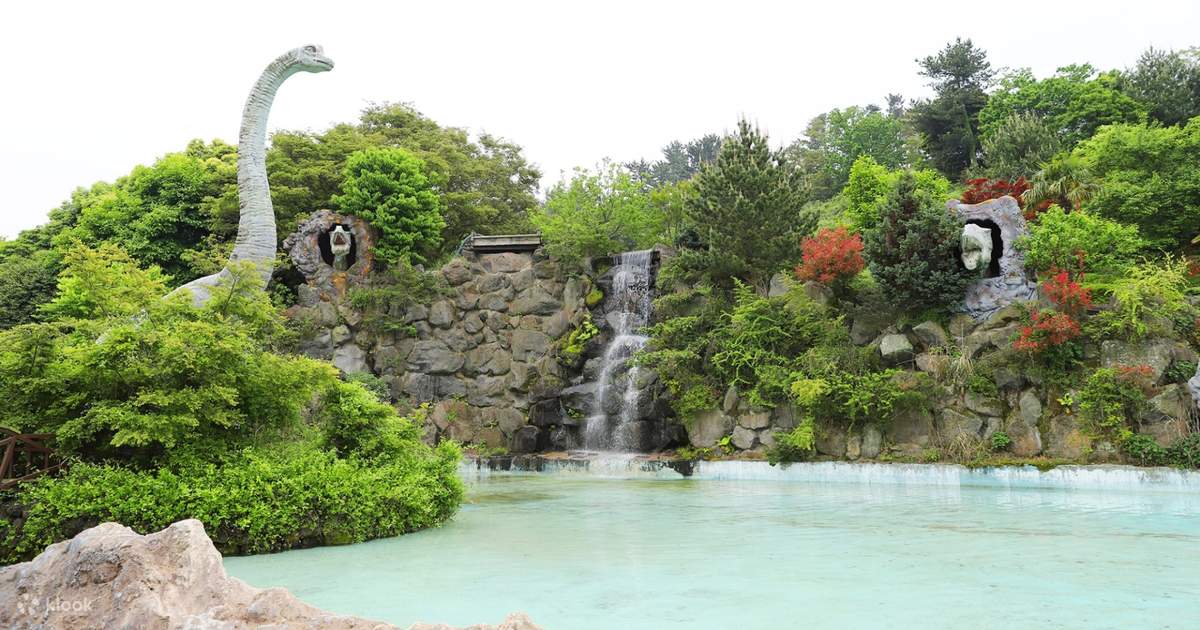 Source: Klook
For the family-friendly route, start off by heading to the Jeju Dinosaur Theme Park to view life-size dinosaur sculptures amidst lush foliage, view exhibits and interact with animals at the petting zoo.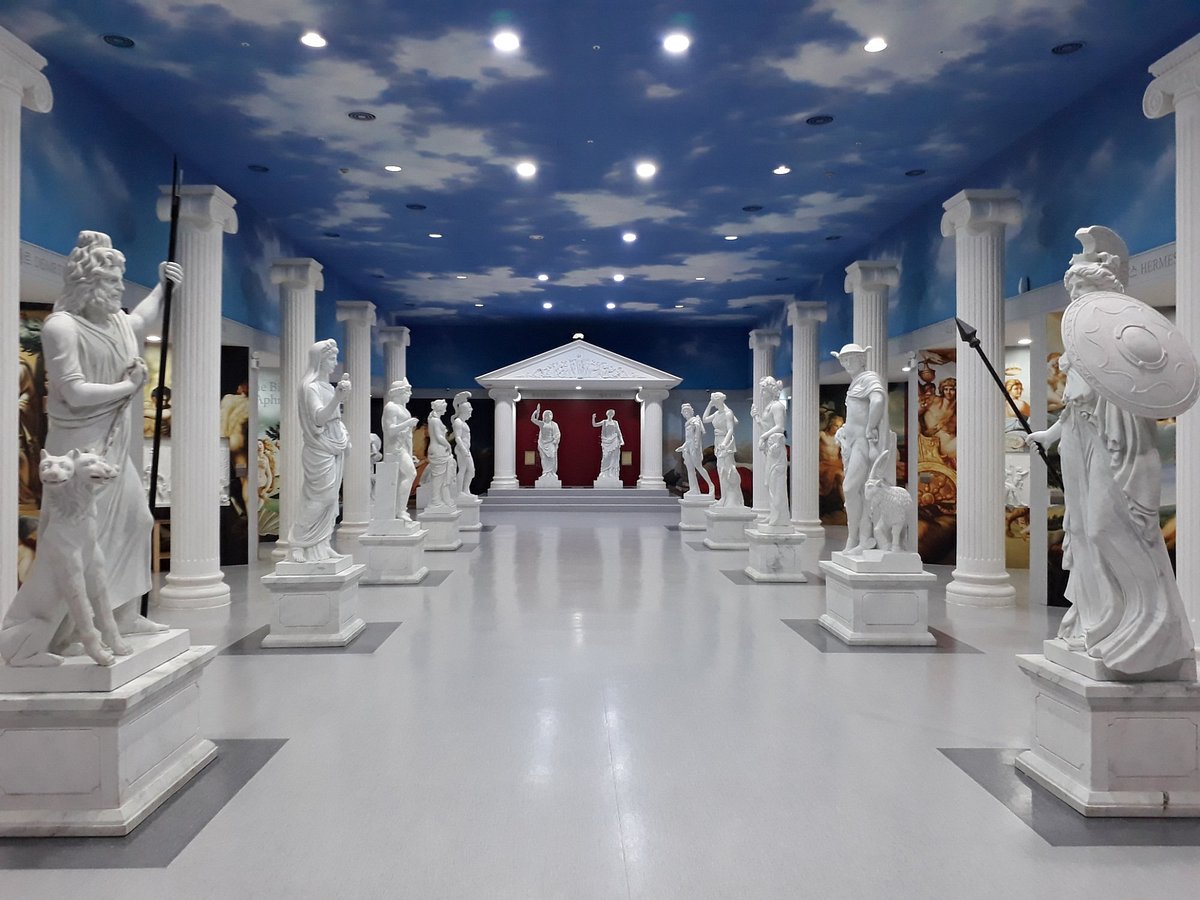 Source: TripAdvisor
Pororo and Tayo Theme Park
Source: m.visitjeju.net

Shinhwa Theme Park
Source: KKday
Then continue on to the Greek Mythology Museum to learn about ancient gods and heroes, before proceeding to Pororo and Tayo Theme Park and Shinhwa Theme Park for some good ole amusement park fun. For a change of pace, drop by at the Siongook Theme Park to view miniature replicas of landmarks from all around the world.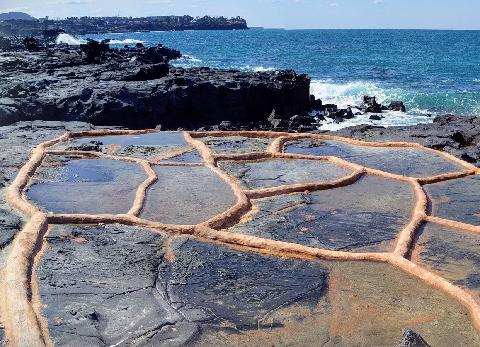 Source: m.visitjeju.net
Now, for the nature-and-cafe route, your first destination is the Gueomri Stone Salt Flats, a famed salt-producing locale for over 400 years.
Cafe Aewol Monsant
Source: Trazy
Then, follow the coastline to the popular Aewol Cafe Street, where you can take your pick from several chic cafes and enjoy your favourite brew while looking out over the calm, blue ocean. Don't forget to take a stroll down the nearby Gwakji Beach to really bask in the beach vibes.

Hallim Park


O'Sulloc Tea Museum and Garden
Source: This is Korea Tours
Continue along the coastline to find Hallim Park, a renowned botanical garden featuring caves, waterfalls, scenic gardens and a folk village. Afterwards, head for the Jeju Museum of Contemporary Art for some thought-provoking exhibits, then onwards to the O'Sulloc Tea Museum and Garden, where you can sample locally grown Korean green tea and the snacks and treats made from it.
---
Day 5: Jeju City
For your last day, we recommend taking it easy with a city day in Jeju City.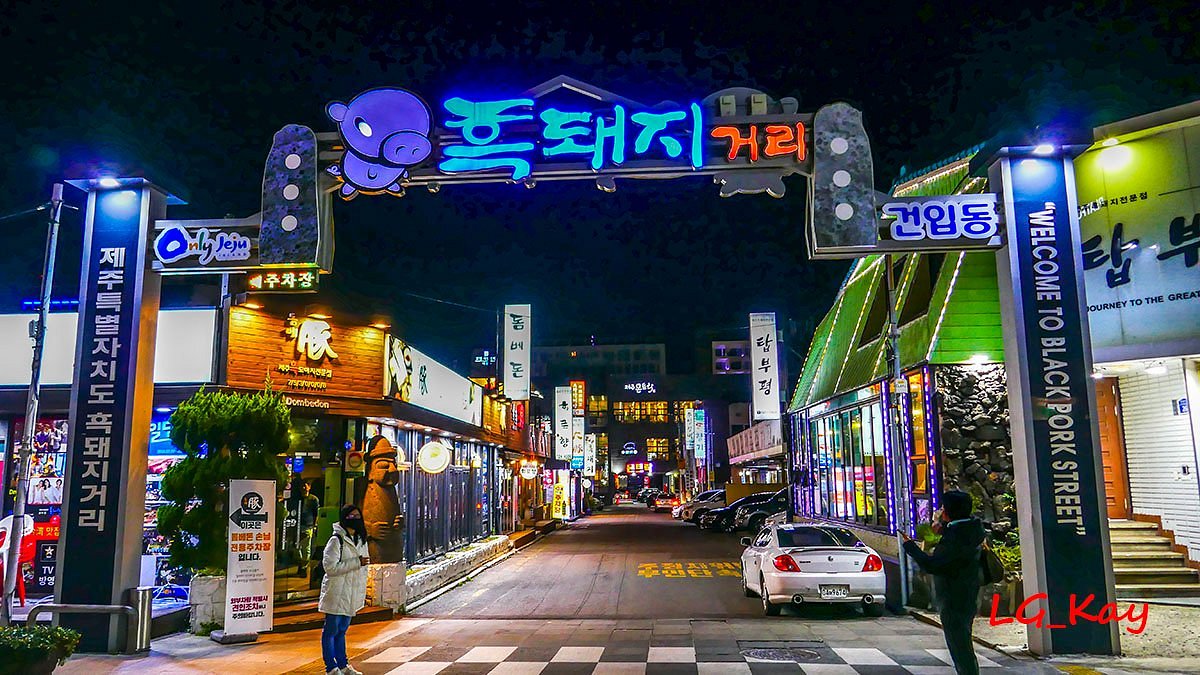 Source: TripAdvisor
Now's your chance to catch up on souvenir shopping or to have another go at your favourite Korean eats. Conveniently, the famous Black Pork Street is also located in Jeju City, so go ahead and fill up on this most scrumptious of meals so you leave with no regrets.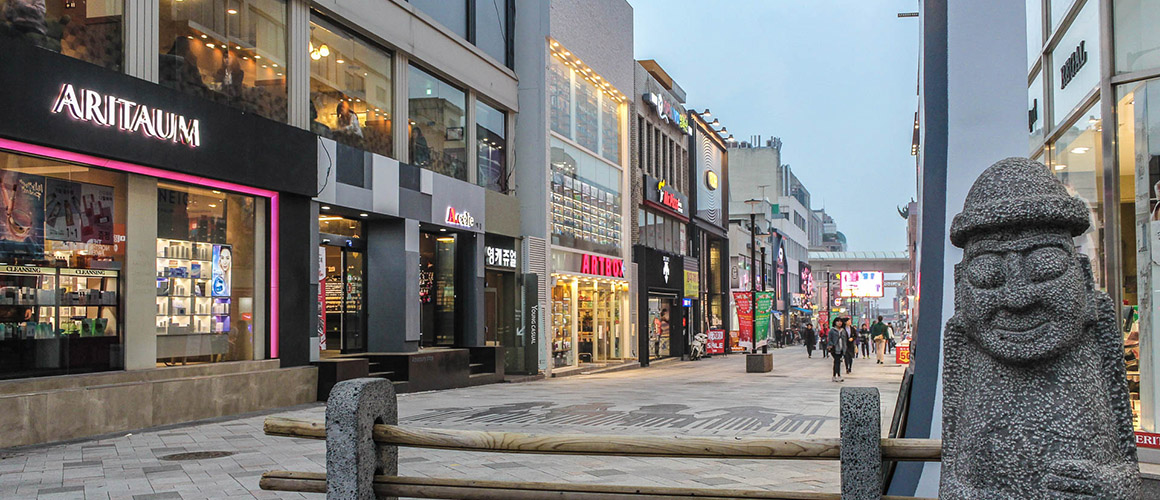 Source: m.visitjeju.net
As for shopping, you'll want to make time for the massive Jungang Underground Shopping Center, which houses over 380 shops within its 10,000 sqm span. It's also near Jeju Chilsung-ro Shopping Street, where you can find trendy labels popular among the hip and fashionable.
There's also Tap-dong Street in downtown Jeju, a popular shopping district located near Jeju Port. Head here to find shops selling local handicrafts, fashion, and cosmetics, interspersed with a smattering of bars and restaurants.
---
---
Read these next
Where to Travel in 2023: 7 Best Countries to Visit
Exploring the World Alone? Here are 20 Travel Tips That Every Solo Traveller Should Know
Best Travel Insurance Plans And Promotions In Singapore (March 2023)
5 Best Travel Insurance in Singapore for Different Needs (2023)
Best Senior Travel Insurance For Elderly Travellers (2023)