If you're reading this, congrats! You're saying yes to spending the rest of your life with your person. Kickstart the next chapter of your life at one of these gorgeous destinations for your long-awaited honeymoon!
Best Travel Insurance: TIQ Travel Insurance | MSIG TravelEasy | Allianz Travel Insurance | Ergo TravelProtect | Singlife Travel Insurance | Sompo Travel Insurance | Tokio Marine Travel Insurance | Allied World Travel Insurance | Starr Travel Insurance | FWD Travel Insurance | AIG Travel Guard
As if planning for a wedding isn't enough, you'll still have to take some time out to plan your long-awaited honeymoon!
Your honeymoon will be the first trip you take together as newlyweds, giving you guys some alone time right after your stressful wedding planning. Take this time to check something off your shared bucket lists, or just plan a relaxing trip lounging away on the beach.
Depending on what you guys want out of the trip, choosing the right destination can be a big game-changer. Need some inspo? Here are some of the popular honeymoon destinations for you and your spouse to bask in the surroundings and in each other's company.
Read these next:
Best Travel Insurance Plans And Promotions In Singapore
Where to Travel in 2023: 7 Best Countries to Visit
​​6 Tips for a More Luxurious Honeymoon (That Won't Break the Bank)
Long Weekend Getaways From Singapore in Budget
Cheapest Flights to Popular Destinations
1. Santorini, Greece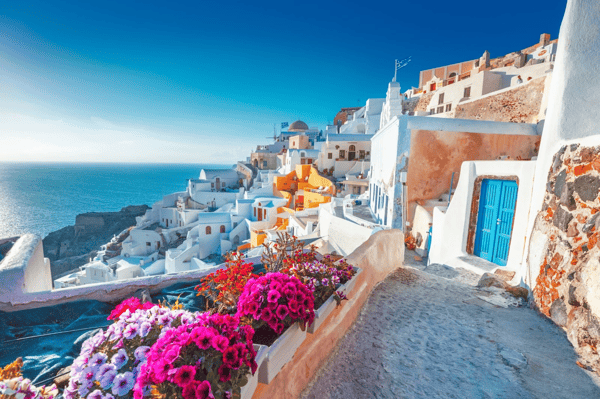 Known for its white-chalked walls with marine blue roofs carved into cliffs, Santorini is a place you'll never forget. Overlook the sea while sipping your morning coffee in your accoms, and take aesthetic fit pics against the multicoloured buildings. Even if there's absolutely nothing to do here, the spectacular views make up for it.
Santorini offers a wide range of honeymoon suites perfect for you and your S/O, but if you can afford it, we recommend staying in one of the hotels in Caldera, preferably with a private pool. They range from about S$400 to S$800 per night, and can even go up to about S$1,700 for higher-end suites.
Take romantic walks with your newly-wedded spouse along the villages of Oia and Pyrgos Village, both exuding their own unique charm. If you prefer to be somewhere more peaceful, Pyrgos Village is your place to spend quality time with your partner. While you're at it, remember to catch the breathtaking sunset at Oia, 330m above sea level that promises unparalleled views.
You can also book a Catamaran cruise with meals on board, from about S$70 to S$200/pax.
Food options are aplenty there, serving mostly local Santorinian food at Pyrgos. Alternatively, you'll also find restaurants and bars lining Caldera Cliff, offering up hearty brunch options and even fine dining. If you're into seafood, do give the taverns at Ammoudi a shot!
Santorini also takes its nightlife seriously, where you can dance the night away at one of its bars with the love of your life.
2. Bali, Indonesia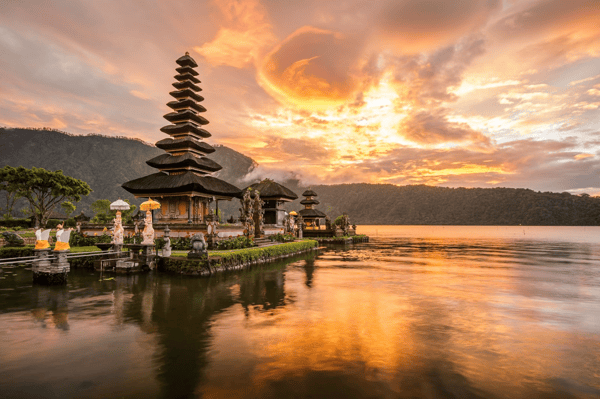 Bali is another popular getaway for a honeymoon, because of its white-washed beaches, extravagant beach clubs and chill vibes all around. Nothing spells romantic more than sipping by the beach with a cocktail in hand and enjoying the beautiful sunset hues with the love of your life.
Bali is also known for its luxe villas that make you feel like a King and best of all? They come really cheap — you can easily get a villa with a private pool for just S$100 per night. But of course, prices might get steeper depending on its location and how extravagant it looks.
If your villa has a pool, consider ordering a floating breakfast just for the experience! But they are mainly for the gram because eating in your pool is a lot harder than you think.
There are many fun activities to do in Bali as newly-weds aside from beach club hopping, like hiking up Mount Batur to catch the picturesque sunset, going on a thrilling ATV and white water rafting ride, visiting the various temples and catching traditional Balinese dance performances, going on a day tour to visit the iconic Nusa Penida island, as well as attending a Balinese cooking class.
On top of that, you can also indulge in Bali's well--known flower bath available at some massage and spa parlours. Alternatively, you can choose to DIY it with your partner in your own bathtub!
The great thing about Bali is that though it is a beautiful island, the cost of living is very cheap. For a taste of authentic Balinese cuisine, warungs (roadside stalls) cost you about S$2 to S$4 per meal. Meanwhile, restaurants and beach clubs can be quite pricey, ranging from S$10 to S$20 per main.
Read this also: Bali Travel Guide — What Kind Of Traveller Are You?
3. Maldives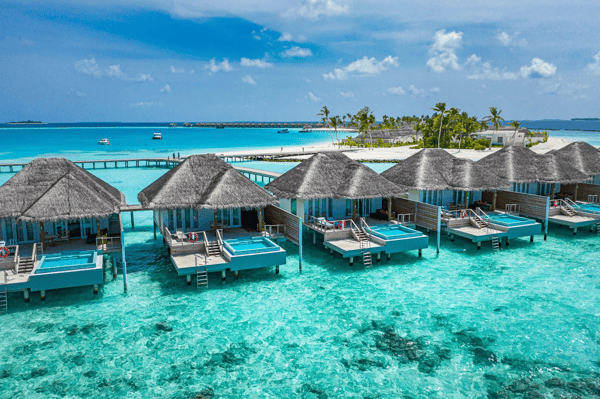 If you're looking for the ultimate beach destination for your honeymoon, Maldives is definitely the place for you. Located in the middle of the Indian Ocean, the island is surrounded by teal green waters all around and old-school huts on the water — a dream destination if you're a fan of a relaxing holiday to unwind, away from the hustle and bustle of city life.
If you didn't know, Maldives essentially goes by a "one resort, one hotel" concept, whereby every beach resort is located on its own private island, giving you the utmost privacy and peace you need.
Every water sport you can think of is practically available on the island, while above all, snorkelling is a must because of the crystal clear waters, giving you perfect visibility of the marine life you're swimming with. Think jet skiing, paddle boarding, boating and surfing — they are all popular activities to try here.
Feeling extra fancy? Visit one of their underwater spas or restaurants for a once-in-a-lifetime experience! Some resorts also offer day excursions for individuals who want to explore other islands in Maldives.
With all these said, Maldives is definitely not a place for couples who are on tight budgets. Because of its exclusivity and limited resources and amenities, accommodation and food don't come cheap. Expect to pay about S$400 per night for a mid-tier resort, while higher-end resorts can cost upward of S$800. Meanwhile, a normal meal there would cost you about S$15 to S$20 at least.
Read these next:
Best 6 Credit Cards For Overseas Spending
Cash Vs Credit Card Vs Multicurrency Card For Travelling
HSBC TravelOne Credit Card Review
Citi Rewards Card Review
UOB Lady's Card & UOB Lady's Solitaire Card Review (2023)
4. Paris, France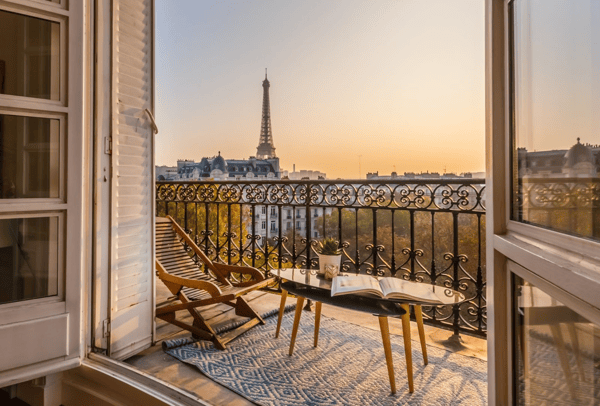 Ask anyone to name romantic destinations, and you'll realise that Paris will definitely come up at least once. I mean, Paris isn't known as the City of Love for nothing! Imagine sitting by a stylish neo-bistro people-watching with your partner, with the Eiffel Tower as the backdrop — it certainly feels like a scene right out of a rom-com!
There are many Airbnbs, hotels and apartments to choose from, but since it's your honeymoon, why not splurge on one that gives you unblocked views of the Eiffel Tower itself? Catch it at night when the lights are on — it's definitely a sight to behold!
Lover of the Arts, anyone? Paris is also known for their famous sights like the Louvre (where the Mona Lisa and Venus De Milo are at), Cathédrale Notre-Dame de Paris, Arc de Triomphe, Palace of Versailles and Musée d'Orsay. Alternatively, taking a stroll along the streets and admiring French Renaissance architecture will be an activity in itself.
If you're there, remember to try the ever-famous chocolat chaud à l'ancienne (hot chocolate) topped with whipped cream, as seen in Emily in Paris. Sweet tooths will definitely enjoy its velvety texture that's extremely decadent.
Though Paris is highly romanticised in movies, it does have its cons, and one main drawback is its prevalence of pickpocketing. Pickpockets are everywhere, and I mean everywhere. Beware of scams as well, and be aware of your surroundings — always trust your instincts and have your guard up because they tend to target tourists.
See also: Common Overseas Scams To Look Out For To Avoid Being Pickpocketed
5. Sicily, Italy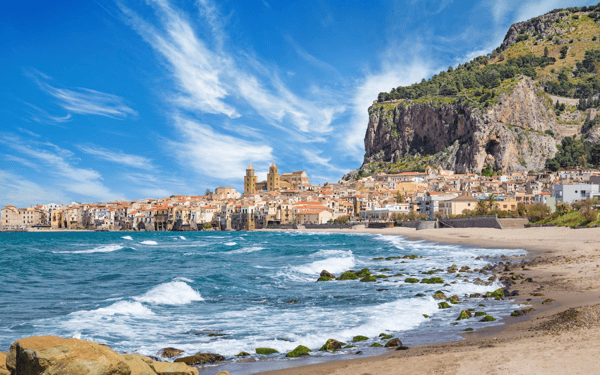 If you're a fan of rustic charm and quaint hilltop towns, you'll love Sicily. You'll get to enjoy the lapping waves along pristine beaches and indulge in mouthwatering Italian food that is guaranteed to leave you wanting more. But choosing where you'll want to stay is essential, depending on the kind of experience you want to get out of this trip.
If you're planning on visiting the UNESCO heritage sights, you'll want to stay at Palermo, which it is home to a few monuments, as well as impressive eateries, rooftop bars and markets — be sure to visit the Palatine Chapel and fine at the Vucciria market while you're there!
Alternatively, couples looking for somewhere more peaceful can head to Cefalu, where there are small artisanal shops along the cobblestoned alleys.
For a more luxurious vacation, consider the Aegadian Islands, that's off the coasts of Sicily, and require a short boat ride to get to. You'll find the town lined with multicoloured buildings right out of a postcard. You can explore the clean beaches, go on a cave tour or hop on a cruise to get the most out of the beautiful island.
Lodging here is generally affordable, as a quick Airbnb search shows most of them under S$300 a night, from some as low as S$70. But if you want a seaside view, you're bound to be paying a little more.
Read these next:
Best Travel Insurance Singapore 2023 (With COVID-19 Coverage)
Best Travel Insurance Plans And Promotions In Singapore
Travel Insurance Guide: Five Things All Travellers Must Know
6 Best Travel Insurance in Singapore for Different Needs (2023)
11 Things You Didn't Know You Can Claim From Your Travel Insurance
6. Turks & Caicos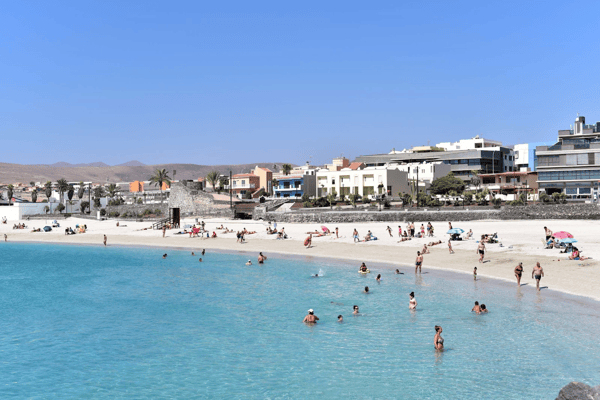 Featuring some of the most amazing beaches and corals in the world, Turks & Caicos is a great honeymoon destination if you're a fan of coastal spots. Made of a group of small islands, you can take the time to explore what each different island has to offer.
One of the best things to do here is to go snorkelling and scuba diving, as the clear waters give you the ultimate experience of looking at the vibrant marine life and coral reefs like no other. The most popular areas are Smith's Reef and Bight Reef in Providenciales, and Black Forest in Grand Turk, with its unique black corals that you can hardly find elsewhere.
Hit the beaches here as you enjoy the soft toothpaste-white sand and glistening waters. Those highly sought-after beaches are Gibbs Cay, and Taylor Bay Beach in Providenciales, and Governor's Beach, and Pillory Beach in Grand Turk. Don't miss out on Chalk Sound either, as it is a stunning national park boasting turquoise waters and hundreds of small islands.
Another place you can't miss is Salt Cay, which was recently nominated as a UNESCO Heritage Site, because producing sea salt used to be the main source of revenue for the island. A fun fact is that you'll probably see more donkeys, cattle and iguanas than humans there, so you'll be able to enjoy perfect tranquillity with your partner.
You can expect to spend about S$300 to S$450 per night on your accommodation, but if you're looking for a beachfront villa or luxurious resort, expect to pay more, from S$500 and beyond.
7. Maui, Hawaii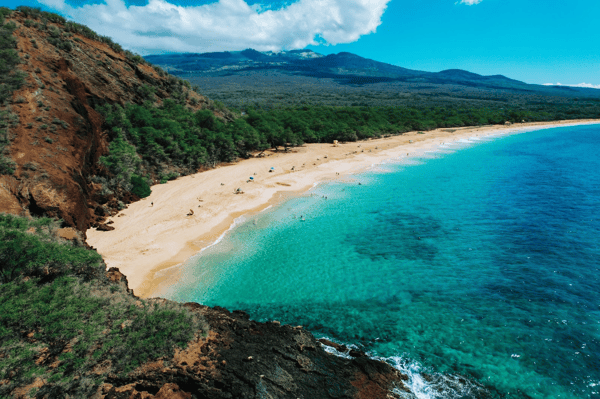 Boasting over 120 miles of coastline, lush forestry and mountains, Maui offers a multitude of things to see and do. Don't let this tropical paradise fool you, you can actually find some world-class dining and shipping here! It's time to pack your grass skirts and coconut-cupped bras!
One of the best things to experience here is a Luau — you haven't visited Hawaii if you haven't participated in one. Most resorts actually do schedule regular luaus, if not, there are tons of different ones on the island. Go ham with the celebration with Hawaiian ceremonies, great music and traditional food like poi, kālua pig, poke, and haupia!
Want to catch a sunrise? The place that offers the most majestic views is Haleakalā, which is an active shield volcano which is also known as the "house of the sun". Because it has a summit height of 10,023, you'll get to see unparalleled views of the sunrise. If you're feeling adventurous, you can opt to bike down the volcano after the sunrise! You can either book a tour or go yourself, but make sure you have a rental car and make your reservation early through Haleakala National Park's website!
Up for a road trip? Travel the roads to Hana that span over 103km from Kahului to Hana. Some must-see spots include Twin Falls, Garden of Eden Arboretum, and Wai'anapanapa State Park, which features beautiful black sand beaches! However, remember to make a reservation before you head down, at least one day before your visit.
---
8. Venice, Italy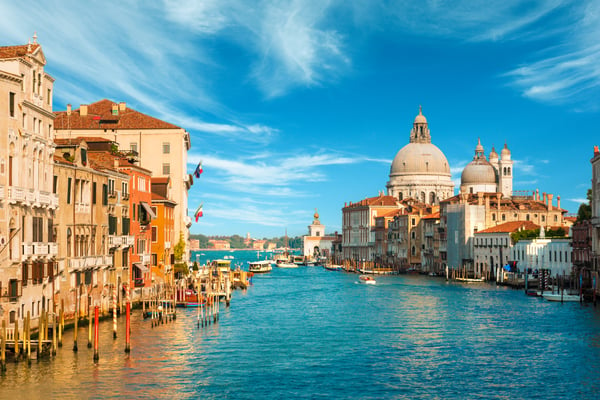 Nestled in the heart of northeastern Italy, Venice boasts a unique charm that is unparalleled, because it's literally a city on water! Known for its labyrinthine canals, magnificent architecture, and intimate alleyways, Venice is a place where love stories come to life.
One of the iconic activities you cannot miss out on is taking a gondola ride. Nothing says "romance" quite like gliding through Venice's winding canals in a traditional gondola. You'll get to admire the city's romantic skyline with your partner while being serenaded by gondoliers!
Aside from that, take a leisure stroll to admire the historical architecture, including the famous St. Mark's Basilica and Doge's Palace. Take the time to also explore the narrow alleyways, known as "calli," where you can find hidden squares and quaint cafes to lull the afternoon away.
Engage your artsy side by checking out their many museums like the Accademia Gallery, Peggy Guggenheim Collection, and the Ca' d'Oro Gallery to learn more about Venetian art and history.
Beyond that, Venice also offers many opportunities for you lovebirds to go wine tasting at their numerous enoteche and wine bars.
---
9. Kyoto, Japan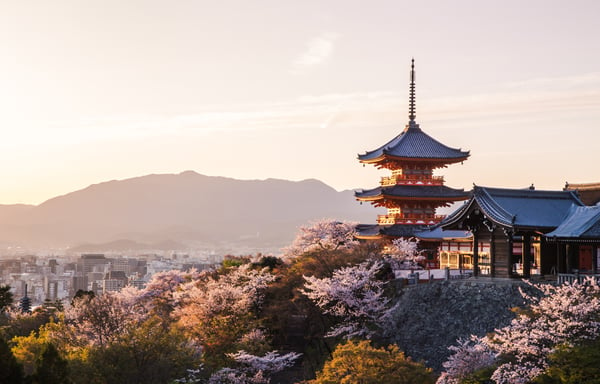 Known for its cultural richness and natural charm, Kyoto in Japan is a great spot for you lovebirds to spend some alone time at.
Kyoto is often considered the cultural heart of Japan as it allows you to fully immerse into Japan's rich culture through their various activities. Think shrine and historic temple visits, tea ceremonies and kimono try-ons! Some of the iconic landmarks include the Fushimi Inari Shrine and the Golden Pavilion (Kinkaku-ji), that cannot be missed out on.
Beyond that, Kyoto also boasts stunning landscapes that seem like they come right off Japanese postcards! Expect zen gardens, bamboo groves, and vibrant cherry blossoms that provide the perfect backdrop for romantic strolls with your partner — we recommend going to Maruyama Park for the cherry blossoms!
If you're foodie, then Kyoto won't disappoint. The city is known for its exquisite kaiseki cuisine, which is a traditional multi-course dining experience. Of course, you can also find cheaper alternatives all around like ramen, sushi, sashimi and rice bowls.
---
10. Prague, Czech Republic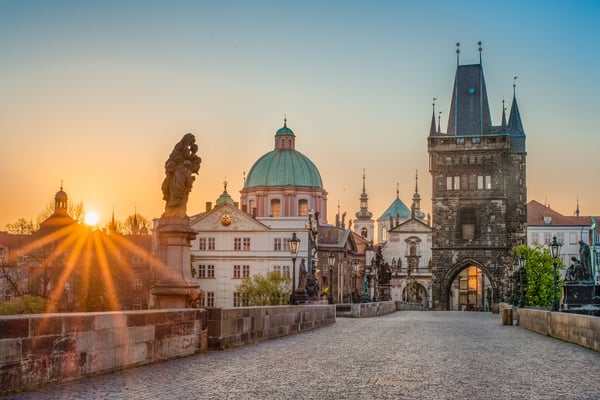 Lined with alluring historic architecture, charming cobblestone streets, and captivating riverside views, Prague is a great place for a romantic getaway. Get ready to be blown away by its Gothic and Baroque buildings, and renowned architecture like the Prague Castle and the Charles Bridge that are both must-sees.
Feel free to explore the quaint cobblestone alleyways and discover some hidden courtyards, charming squares, and hole-in-the-wall cafes to have a glimpse of what living as a local there is like.
If you're into the arts scene, you'll be pleased to know that Prague offers a rich cultural tapestry where you can enjoy classical concerts, opera performances, and ballet recitals, or visit art galleries and museums to have a deeper understanding of its history and culture.
Czech also offers a wide range of local delicacies including some of the crowd-favourites like Svíčková na Smetaně (roast sirloin in sour cream sauce with dumplings), Koprová Omáčka (Koprovka), Smažený Řízek (schnitzel with potato salad) and Smažený Sýr (fried cheese).
---
11. Iceland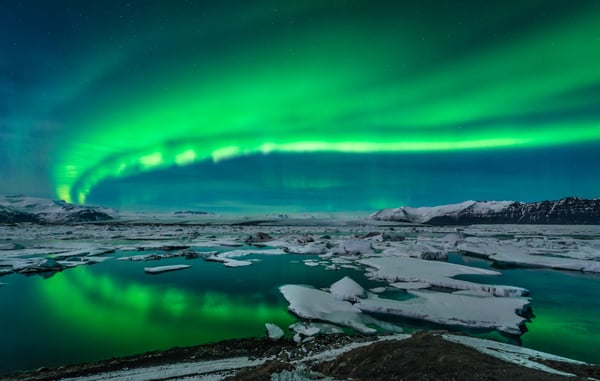 If you'd like a more unique honeymoon experience aside from beaches and stunning architecture, Iceland should be at the top of your list.
The biggest appeal to go to Iceland is to catch the Northern Lights, a celestial light show — an out-of-this-world experience that will definitely make your honeymoon unforgettable. If you have a higher budget, we recommend booking a glasshouse where you can catch the stars and Northern Lights from the comfort of your own room!
Adventure seekers can also look forward to discovering terrains, like glaciers, ice caves, and geysers. You are in good hands though, there are many tours that you can book online that come with trusted and professional guides!
There's also the famous Blue Lagoon, a geothermal spa, known for its soothing properties. The mud at the bottom is also great for your skin so feel free to slather it all over your face and body for maximum benefits. The place also offers float therapy and in-water massage services.
---
12. Cape Town, South Africa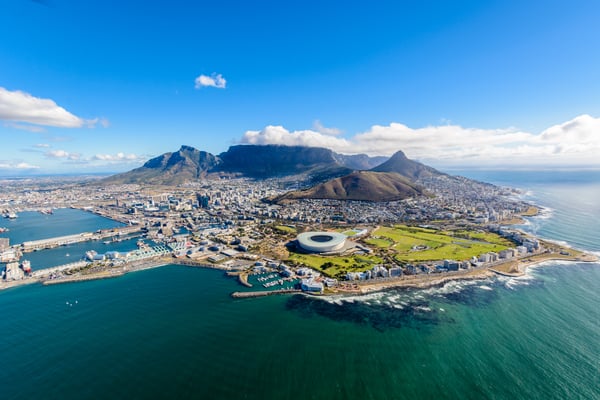 From pristine beaches and historic neighbourhoods to safari adventures and world-class vineyards, Cape Town caters to every kind of traveller out there.
Firstly, the stunning landscape of Cape Town is already to die for. Think crystal clear waters and sandy beaches encircled by rugged mountains and rolling vineyards — every corner you turn will look straight out of a Pinterest photo.
Animal lovers can look forward to their many animal safari experiences where you'll get up close (we really mean up close) and personal with wildlife like giraffes, hippopotamuses, and even lions from the safety of a private jeep. There are even shark cage tours if you're up for it.
Home to world-class vineyards like Stellenbosch and Franschhoek., Cape Town is an ideal place for wine lovers to indulge in tastings and vineyard tours, where you get to see for yourself how premium wines are made and the behind the scenes that come with it.
Read these next:
International Travel Checklist 2023
Beautiful Places & Beach Destinations in Asia
20 Travel Tips That Every Solo Traveller Should Know
8 Best Travel Tips for 2023: Budgeting, Safety, Hacks
10 Most Affordable Holiday Destinations From Singapore