As wealth and standards of living continually increase, so has the methods to flaunt one's status. Many are opting for metal credit cards over plastic ones, but is there really a difference?
It's always a significant milestone when you acquire your first credit card as an adult. For some, it represents their stepping stone into adulthood, for others, it's a symbol of status and wealth. Some even take it a step further to request a metal credit card over a plastic one.
Whatever the reason is, metal credit cards certainly appear more enticing than their plastic counterparts. They're flashy, expensive and act as a form of bragging rights. But, what exactly are the differences between the two? And are metal cards truly more valuable than the other?
Table of contents
Origins of metal credit cards
The history of metal credit cards can be traced back to the 1920s, when well-to-do shoppers were using metal charge plates or coins to open tabs at department stores. However, modern-day metal credit cards more recently rose to prominence during the late 1990s: enter the titanium American Express Centurion Card, the first of its kind released in 1999.

Source: Forbes
This ultra-sleek, black metal credit card was notoriously fabled as an invite-only card on a need-to-know basis. Only society's upper echelon was eligible for this legendary card — and even then, it had to be the top of this upper class.
Needless to say, owning an AMEX Centurion Card in your wallet was the definition of opulence and success. And of course, as a testament to the cardholder's wealth, it culminates in a hefty membership fee to foot annually.
Although the metal card trend isn't exactly the talk of the town nowadays, it's still of relevance to targeted demographics who can afford it. A key characteristic would be their voracious appetite for spending big.
---
Curious about which metal credit cards available in Singapore you can apply for? We've rounded up the best options and compared their cost and benefits so you don't have to!
The hype surrounding metal credit cards
With that said, these metal charge plates have become more accessible to the mass populace. To some, owning one just seems unnecessary whereas to others, it can be entirely enticing.
For starters, no one can deny the perceived higher prestige and privilege associated with owning a metal credit card. It is a status symbol after all.
Moreover, a metal credit card is understandably heavier than its plastic counterpart. For instance, a plastic card weighs around one ounce (28g) while a metal card (e.g. AMEX Platinum) can weigh as much as seven ounces (200g).
It's almost as if there's a corresponding match in weight tier to the metal card's costlier annual fees and cost of entry in general. This heftier weight is what contributes to a more elevated, luxurious and premium feel of the card.
What's more, dishing out a metal card to pay an extravagant restaurant bill in front of family and friends (and the waiter) is impressive.
In terms of customisation, some come in metal-plastic hybrids whereas others are entirely metal plates. The former typically allows easier usage and greater flexibility.
Cardholders can further take things up a notch by choosing between brass, copper, brushed stainless steel, or even gold or platinum, where available. There have even been reports of diamond-encrusted metal cards.
Truly, nothing exudes affluence and lavishness more than a credit card embellished with gemstones.
---
Related to this topic:
A Full Guide to Priority Banking in Singapore (2022)
Priority Banking in Singapore: Does It Help to Grow Your Wealth?
Priority Banking vs. Private Banking: What You Enjoy When You Crossthe Last Hurdle
Differences between plastic and metal credit cards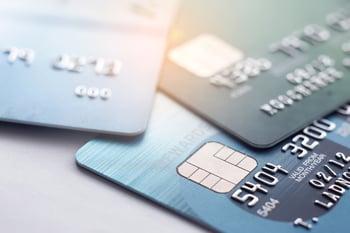 Structural differences
Now, let's pit the two types of credit cards against each other.
Arguably, the first (and main) difference is that metal credit cards cannot be shredded nor cut with scissors like standard plastic ones.
Attempting to do any will likely result in injury. Instead, the best disposal solution is simply calling ahead to return it to the card issuer.
Another con of metal cards also lies in their relatively less functional usage.
While they can still perform conventional swiping and insertion into chip readers, fully metal or metal veneer cards cannot be used for contactless transactions. This is because such card variations might not possess a PVC on its reverse side.
Featural differences
Overall, Singapore's credit card industry can be stratified into three segments: S$30,000 tier, S$150,000 tier and S$500,000 tier. These tiers pertain to the cardholder's minimal income requirements.
S$30,000 tier
You'll mostly find your plastic credit card options in the S$30,000 segment. Standard annual fees fall under the S$200 range.
S$80,000 to S$150,000 tier
Once you hit S$80,000 and above is when you'll start to see the metal card big leagues like Standard Chartered X, Citi Prestige Card, OCBC Voyage, and more. Expect your annual fees to range between S$500 to S$700 here. Cardholders can enjoy unlimited lounge access, and complimentary airport transfers, among other special dining and hotel perks.
S$500,000 (& invite-only) tier
One more prong up the ladder and you'll enter the so-called S$500,000 tier — which has a reputation to be misleading.
Even if you earn an annual income of S$500,000, some of these metal cards are by-invite basis only; and we don't even want to think about the annual fees unless you consider S$3,000 to be a small ballpark number.
The only redemption to paying the annual four-figure fee is the premium perks offered. They usually comprise bespoke services, beck-and-call concierge assistance, complimentary luxury hotel-chain accommodation, exclusive closed-door events and so much more.
The annual fees cannot be waived for these uber-tiered metal credit cards. They're all paid upfront as part of the application cost.
Pro-tip: Be sure to compare additional benefits and travel protections across metal credit cards to see which best fits your needs and lifestyles.
Additionally, becoming a priority or private banking member accords cardholders greater perks to enjoy.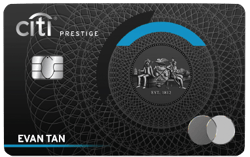 For example, Citi cardholders under Citigold and Citigold Private Client programme can receive up to 30% additional ThankYou Points using the Citi Prestige Card. Points earned are usually calculated based on spending and the extent of a personal relationship with the bank. Here's a breakdown: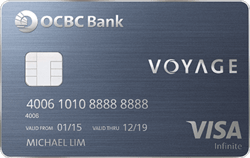 Or perhaps if you see yourself as a high-flyer (literally), OCBC Premier, OCBC Premier Private Client and Bank of Singapore VOYAGE Card stand to earn 1.6 miles per local dollar and 2.3 miles per foreign dollar.
To delve deeper into the world of exclusive, invite-only metal credit cards in Singapore, read this article to find out more.
Conclusion: Are metal credit cards worth it?
Apart from stylistic points, substantial weight, and the satisfying metallic clunk of tapping, inserting or setting it down on the bill, are metal cards really worth it?
At the end of the day, it all boils down to your lifestyle choices. Do you jet-set around the world frequently and thus require a metal card to score mileage points? Or perhaps you value luxurious experiences and want exclusive access and concierge services for your personal demands.
If you still find metal cards to be excessive and unnecessary, plastic credit cards are fine too.
There's no right or wrong here, only what your preferences are. Everything is fair game to banks as their valued customer — so long as you meet your credit card's requirements dutifully.
---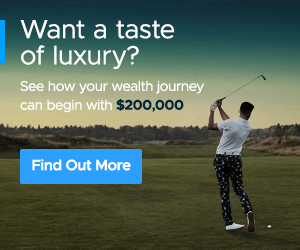 Ready to level up? Find out how you can make your money work harder and smarter for you. Enjoy your own dedicated relationship manager and privileged access to a whole suite of preferential rates with Priority Banking. Compare your options.
---